Felipe Panamá
Department of Drama
Assistant Teaching Professor, Musical Theater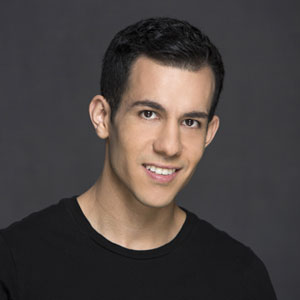 Syracuse Stage/Department of Drama Theater Complex
820 East Genesee Street
Felipe Panamá is a dancer, teacher, choreographer, and visual artist who teaches ballet technique, jazz, and contemporary styles.
Panamá is a soloist dancer with Syracuse City Ballet (Dracula, The Nutcracker, originated the role of Spring Fairy in Cinderella). He shot, edited, and produced Syracuse City Ballet's 2020 Digital Season, premiering five works: The Dying Swan, Empire, Goldilocks meets Little Red, Frolicsome, and Peter and the Wolf, as well as historical and educational capsules.
Panamá has danced with Ballet San Antonio for its 2018/19 season (Beauty and the Beast by Bruce Wells, originated the Chinese Dance pas de deux in Easton and Hailey Smith's new production of The Nutcracker, and Yosvani Cortellan's Carmen as one of the four Matadors). He choreographed, with Mayim Stiller and Michael Agudelo, Galileo and the Wonders of the Telescope for Ballet San Antonio's Outreach program that reached thousands of San Antonio youth.
Panamá was a dancer with Ballet de Jalisco in Guadalajara, Mexico (2014 – 2017) under the direction of Dariusz Blajer, where he performed in Who Cares? by George Balanchine and Scheherazade by Mark Godden. He has been featured in corps and soloist roles in The Nutcracker, The Sleeping Beauty, Don Quixote, Swan Lake, Graduation Ball, Romeo & Juliet and the title role in Pied Piper of Hamelin. He was a dancer with Brooklyn Ballet, under the direction of Lynn Parkerson, where he performed Quilt and Solitude by Julia K. Gleich.
Panamá has taught master classes at La Escuela Superior de Música y Danza de Monterrey in Mexico and coached prize-winning work for students at the Youth America Grand Prix. His teaching range includes absolute beginners of all ages, from toddlers to seniors to pre-professional students. His varied experience has allowed him to develop an approach to teaching technique that is accessible and artistic, focusing on movement concepts that are available to all bodies and center on modification in recognition of every individual body's relation to inertia. Classes are designed to involve the entire body through specific muscular activation and musicality with the purpose of developing deft and highly coordinated movement.
Panamá holds a B.A. in performing arts for dance expression from the University of Guadalajara. He also graduated from the Royal Academy of Dance, receiving the highest obtainable grades in all examinations.
Education
B.A., University of Guadalajara