Elisa Dekaney
Office of Academic Affairs, Setnor School of Music
Associate Dean, Research, Graduate Studies, and Internationalization
Professor, Music Education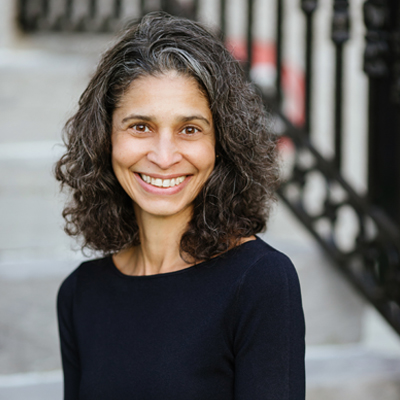 109 Crouse College
Syracuse, NY 13244-1010
Elisa Macedo Dekaney is dually appointed by the School of Education and the College of Visual and Performing Arts at Syracuse University to teach graduate and undergraduate courses in the areas of choral music, music education, music research, and world music. Additionally, in 2014 she joined the prestigious core faculty for the Renée Crown Honors Program.
Along with her husband Joshua Dekaney, Elisa Dekaney has been the founder and director of Samba Laranja: the Syracuse University Brazilian Ensemble since 2001. Under their direction, Samba Laranja performs regularly for k-12 schools across Central New York and for events in the community and on campus. The group has also performed at Jazz at Lincoln Center in New York City four times since 2010 and has been awarded two Syracuse Area Music Awards for Best Recording Other Style in 2011 and 2015 for the recordings Native Orange and Pathways, respectively.
From 2003 to 2011, Dekaney was music director and conductor of the Syracuse University Oratorio Society, an auditioned choir that performed regularly with the Syracuse Symphony Orchestra. Recently, she has been the conductor for the Syracuse University Concert Choir and the Syracuse University Women's Choir.
Born in Rio de Janeiro, Brazil, Dekaney earned a bachelor's degree in piano performance at the Seminário Teológico Batista do Sul do Brasil and a bachelor's degree in communication from Universidade Federal Fluminense. She continued her studies in the United States, earning a master's degree in choral conducting from the University of Missouri-Kansas City under Eph Ehly and a Ph.D. in choral music education from the Florida State University under André Thomas, Judy Bowers, Clifford Madsen, and Rodney Eichenberger.
Dekaney has been an active researcher, clinician, and choral conductor in the United States and abroad. Her scholarly research focuses on aesthetic response to Brazilian music, choral repertoire from the global community, International Phonetic Alphabet, clinical simulation, and thin-slice methodology. Her studies have been published in peer-reviewed journals such as the Journal of Research in Music Education, Research Studies in Music Education, The Choral Journal, International Education, Music Educators Journal, Contributions to Music Education, Journal of Music Teacher Education, and Update. Carl Fischer and BriLee have published her choral arrangements of Brazilian folksongs co-written with Lon Beery, and her book, co-authored with Deborah Cunningham, Travel On and On: Interdisciplinary Lessons on the Music of World Cultures, is published by Rowman and Littlefield Education and the National Association for Music Education.
As part of her service to the choral music education profession, Dekaney has served for several terms as the New York State American Choral Directors Association (ACDA) Repertoire and Standards Chair for Ethnic and Multicultural Music. Additionally, she served for four years as chair of the Special Research Interest Group in Learning and Development of the National Association for Music Education. From 2012 to 2016 Dekaney was the Repertoire and Standards Chair for Ethnic and Multicultural Perspectives for the Eastern Division ACDA. In 2016, she became Repertoire and Resources Chair – Encompassing Genres with the ACDA Eastern Division. In 2006 Dekaney was awarded the Paul and Veronica Abel Award for Outstanding Contribution to the Art of Choral Performance, and in 2015 she received the Tiffany Award for Outstanding Service to the Cause of Music, both awarded by the Civic Morning Musicals. In 2007, the College of Visual and Performing Arts honored Dekaney with an Outstanding Faculty Award. In 2011 she was a Curt Silberman Seminar Fellow at the United States Holocaust Memorial Museum in Washington, D.C., where she engaged in advanced Holocaust studies.
Education
Ph.D., Florida State University
M.M., University of Missouri-Kansas City, Conservatory of Music
Bachelor's degree, Universidade Federal Fluminense, Rio de Janeiro, Brazil
Bachelor's degree, Seminário Teológico Batista do Sul do Brasil, Rio de Janeiro, Brazil
Expertise
Choral conducting, choral music education, and world music