Don Buschmann
Department of Drama
Instructor, Stage Management
Program Coordinator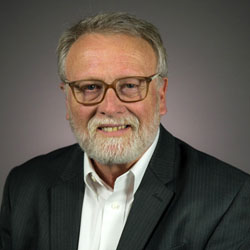 Syracuse Stage/Department of Drama Theater Complex
820 East Genesee Street
Syracuse, NY 13210-1508
Don Buschmann has been affiliated with Syracuse Stage (director of production operations) and the drama department since 1984 and has been in his current position since 1991. His responsibilities include supervising the planning, manufacture, mounting, personnel involved, expense, maintenance, running, and striking of all productions for Syracuse Stage and the drama department.
From 1984-1991 Buschmann was the production stage manager for Syracuse Stage. He stage managed more than 30 shows, including musicals, classics, new plays, dramas, comedies, and star packages. From 1987-1990 he was the producer for the After Ours Cabaret Series, a late-night cabaret series to companion Syracuse Stage's regular season offering.
In addition, Buschmann has been a production manager, event manager, and production stage manager at the Ogunquit Playhouse in Maine; Totem Pole Playhouse in Fayetteville, Pa.; Arena Stage in Washington, D.C.; and Barter Theatre in Abingdon, Va., as well as for a variety of productions and events including off-Broadway, tours, regional theater, fund-raising events, and dance concerts. For eight years he has been the performance manager for the Syracuse Invitational Sporthorse Tournament featuring world-class equestrienne competition.
In the stage management program Buschmann teaches rehearsal techniques, production management, and touring techniques for the stage manager. He has also conducted stage management workshops for colleges and universities around the country, including Le Moyne College, Colgate University, Middlebury College, Bucknell University, and St. Michaels College.
Education
M.A., Missouri State University
Expertise
Production management, and stage management