Dennis Earle
School of Design
Assistant Teaching Professor, Environmental and Interior Design
Shaffer Art History Professor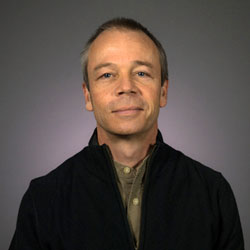 4th Floor, The Nancy Cantor Warehouse
350 West Fayette Street
Syracuse, NY 13202
Dennis Earle grew up in the rural hills just to the south of Syracuse, and after a long period away from the area, he is now living right back where he started. He traveled overseas extensively as a child, and later as a student, and has a great love for the endless variety of cultures and environments to be found abroad.
As an undergraduate he studied art and cultural history as an art history major, especially architectural history in a cultural context.
After some entry-level work at architecture firms in Boston, Earle got a master's in architecture at Penn and returned to the field for a few years in San Francisco and Minneapolis before turning to teaching. He began teaching design history at Syracuse University in the 1990s but has also taught architectural history, landscape architectural history, fashion history, art history, art theory/issues, design philosophy/issues, graphic design, drawing, architectural design, and interior design at SUNY College of Environmental Science and Forestry, Onondaga Community College, SUNY Morrisville, Hobart and William Smith, and in four departments at three different schools at SU. He currently teaches architecture, interior design, and sustainability-related courses in the School of Design and is especially interested in studying and teaching design as a progressive dialogue between evolving cultures, new technologies, and the natural world as we know it.
Education
M.Arch., University of Pennsylvania