David Tarleton
Department of Film and Media Arts,
Dean's Leadership Team
Professor, Film
Department Chair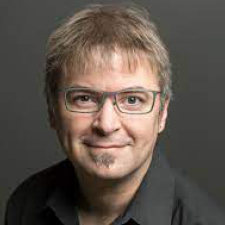 102 Shaffer Art Building
Syracuse, NY 13244-1210
David Tarleton is the chair of the Department of Film and Media Arts and a professor of film.
An award-winning producer, director and editor, Tarleton has created programs for Sony Pictures, The Muppets, Apple TV+, Syfy, Walt Disney Pictures, 3Net, Fox, Comedy Central, Disney Channel, Tokyopop, Mattel, Universal, Warner Brothers, Baby Einstein, Showtime, Learn360, Random Media, and more.
Tarleton is producer and director of the award-winning feature film "Hunter," a supernatural thriller set in Chicago, distributed by Random Media. Tarleton produced and directed the groundbreaking 3D science fiction anthology television series "Dark Secrets" for cable channel 3Net, which played domestically, internationally, and on Netflix. He is executive producer, director, and editor of the award-winning improv comedy series "Dorkumentary," starring Adria Dawn, and was editor of the Webby Award-winning Muppets series "Statler and Waldorf From the Balcony," for Disney. His breakthrough film as producer, director, and editor, the gothic fairy-tale "Dinner," premiered at Slamdance, played on SyFy, and was distributed worldwide.
Tarleton produced and edited the award-winning feature documentary "What Babies Want," narrated by Noah Wyle, and its follow-up "Reducing Infant Mortality." He produced and edited the documentaries "The Making of Warriors of Heaven and Earth," and "The Making of Double Vision," for Sony Pictures. He was also a producer, DP and editor on the pilot for "Dark Secrets," and senior editor for "The Pat Kilbane Show" for Comedy Central. He was VFX Supervisor for the award-winning feature documentary "Head Games," directed by Oscar Award-winning documentarian, Steve James. Tarleton was the senior editor at Wirebreak, a pioneering Internet television studio.
Tarleton co-founded the award-winning production company Tarleton/Dawn Productions in 2004 with his wife, Adria Dawn. The company has produced over 20 films, numerous plays, a streaming series, and has an education division. Recent projects include Telly Award-winning films "Karen," and "Gray Area," which he produced and directed. Tarleton is also a partner in Revealing Media Group, which produces the award-winning socially activist short film series "Kids Matter," including the short films "Identity," "Unsafe," "Blackout," "Help," "Pressure," "Viral," "Excluded," and "Bystander," distributed throughout the world, which he produced, co-directed, shot and edited.
Tarleton is producer of the upcoming feature documentary "SafeZone," about Syrian refugees in Lebanon, which spun off the award-winning short films "SafeZone: Fatima's Journey," "SafeZone: Potato Girls," and "SafeZone: Four Years Later." He is also in post-production on the all-greenscreen film "The Photographist," an adaptation of a Hans Christian Andersen story.
Tarleton also produces and directs theater. With his wife, Adria Dawn, he produced and co-directed "Dorkumentary Live!" at Stage 773 in Chicago. He produced and directed the play "The Miss Firecracker Contest," and executive produced "Rock N Roll Sex Machine," both in Los Angeles. He directed the plays "Sweeney Todd," "No Exit," and "The Indian Wants the Bronx," in Virginia.
Tarleton has served as a juror for numerous film festivals and awards, and was a programmer for the Slamdance Film Festival for nearly a half decade. For 12 years he worked as an actor/historian at Colonial Williamsburg, in Virginia. His writing has been published in CineMontage and Screen Magazine. He organized the CILECT Global Postproduction Symposium, an international conference connecting academics and professional filmmakers from around the world.
Before coming to Syracuse University, Tarleton was a professor and director of graduate programs in cinema and television arts at Columbia College Chicago. He primarily teaches film directing and editing. He holds an M.F.A. in cinema-television from the University of Southern California, studied filmmaking at New York University, acting at Northwestern University, and has a bachelor's degree in interdisciplinary studies from the University of Virginia. He is a member of the Academy of Television Arts and Sciences, the Motion Picture Editor's Guild and the University Film and Video Association, where he is Co-Chair of the Entertainment Industry Caucus.
Education
M.F.A., University of Southern California
B.A., University of Virginia
Certificate in film, New York University
Expertise
Film directing, editing