Danita Emma
Department of Drama
Instructor, Musical Theater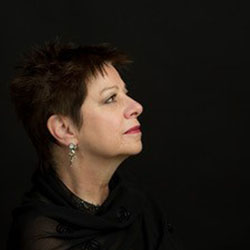 Syracuse Stage/Department of Drama Theater Complex
820 East Genesee Street
Syracuse, NY 13210-1508
Danita Emma has more than 40 years of experience as a dance teacher, coach, choreographer, adjudicator, and administrator.
Her career has been shaped and inspired by her lifelong relationship with her mentor, the world-renowned Madame Darvash. A master teacher and founder of International Ballet Intensive, Emma was recently guest pedagogue at the prestigious Varna International Ballet Competition/Ballet Academy in July 2018. She has been a guest ballet teacher at the Laura Alonso, Pro Danza Company, Havana, Cuba; National Opera and Ballet of Bulgaria; the National Ballet School of Bulgaria; Ballet Academy Marian, Bulgaria; International Ballet Competition USA; Atlanta Ballet; and Ailey II Company among others. Also, she has taught for studios, performing arts high schools, colleges, festivals, regional companies and various auditions throughout the Eastern Seaboard, including Garden State Ballet Company (New Jersey) and Harlem School of the Arts (NYC).
A native of Binghamton, New York, Emma began dancing at an early age. She trained at the Pennsylvania Ballet, American Ballet Theatre and Boston Conservatory of Music. While training at the American Ballet Theatre, she suffered an injury that cut short her performance career. She discovered her unique talent for teaching.
From 1979 to 1995 Emma was the founder and artistic director of Whitney Ballet Theatre in Binghamton. The company staged full-length story ballets, as well as original ballets by Ms. Emma. As Artistic Director of Whitney Ballet Theater, she collaborated with Madame Darvash, Edward Villella, Vicente Nebrada, Judy Fugate, Mel Tomlinson, Anna Botofogo, Nancy Raffa and others.
Emma served as assistant choreographer on Scriabin Quintet, choreographed by Momchil Mladenov and performed by a cast of principal dancers from the National Opera and Ballet and Bulgarian dancers based in the United States Opera. Other choreography credits include the opera Frida composed by Robert Xavier Rodriguez performed by the Society of New Music (Syracuse) and the opera Good Tidings of the Holy Beast composed and directed by Dan Locklair and performed by guest artist from Tri Cities Opera (Binghamton).
Over the years, Emma has developed a sophisticated pedagogy for training classical dancers. Her approach to technique is both demanding and articulate, combining the best of ballet tradition with a deep understanding of the body. Her students have gone on to perform with companies such as Atlanta Ballet, American Ballet Theatre, New York City Ballet, Joffrey Ballet, Dance Theater of Harlem and Orlando Ballet.
Emma holds a B.F.A. in dance from Brenau University. She has held positions at Hobart and William Smith College, Syracuse University, Brenau University and University of Georgia. She designed and launched pre-professional summer dance intensives at SUNY Binghamton and Syracuse University.
In August 2012, Emma formed her own organization, International Ballet Intensive (IBI). IBI is dedicated to sharing the elegant science of classical ballet technique with professional and pre-professional dancers to enhance their capacity as performing artists through educational programs, performance opportunities and international cultural exchanges. She is a member of International Dance Council.
In 2015, Emma was named a Fulbright Specialist in dance and has served on the Fulbright Selection in the U.S. and Bulgaria.
Education
B.F.A., Brenau University
Expertise
Ballet technique and ballet history