Daniel Mach-Holt
Setnor School of Music
Instructor, Applied Music and Performance (Jazz Trombone)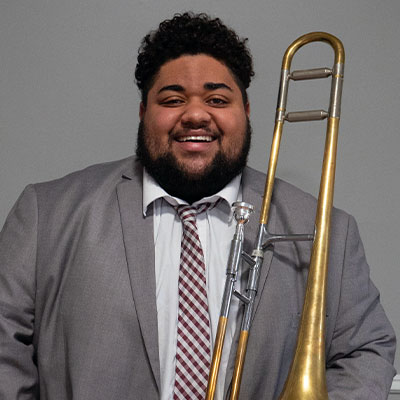 301 Crouse College
Syracuse, NY 13244-1010
Dan Mach-Holt is an Afro-Polish trombonist born in Monticello, New York and raised in Sarasota, FL.
He got into music in high school and studied the tuba and trombone. After high school, he studied music at State College of Florida, receiving an AA degree. Mach-Holt then transferred to Florida State University, receiving his Bachelor of Music degree in jazz studies. Mach-Holt then moved on to his graduate studies in jazz trombone receiving a Master of Music degree at the University of Rhode Island. Currently, he is working on his Doctor of Music Arts degree in jazz studies at Eastman School of Music.
Daniel has studied with numerous teachers on trombone and jazz. He began studying with Todd Craven and Laurie Penpraze in high school until graduating State College of Florida. While at SCF, he studied with Dr. Pete Carney learning the basics of jazz. Once at FSU, Mach-Holt studied both classical trombone and jazz trombone with Dr. John Drew and Dr. Kevin Jones. He also studied with Leon Anderson, Rodney Jordan, Dr. David Detweiler, Marcus Roberts, and Scotty Barnhardt in Independent Studies. While at University of Rhode Island, Daniel studied with Dr. Emmett Goods on trombone, and studied with Dave Zinno and Zaccai Curtis.
Daniel began performing at 17 with the Sarasota Concert Band on bass trombone and tuba. While at State College of Florida, he played principal trombone for the school's symphonic band, orchestra, and was lead trombone in the big band. He also played second trombone with the Sarasota-Bradenton Pops Orchestra from 2016-2017. While in the Pops Orchestra, he performed with Rich Riddenour, debuted electric violinist Martha Mooke's composition, X-Ing for Electric Violin and Orchestra, and performed in rapper Ryanito's music video, Streetlights. At Florida State University, Daniel performed in the university's top jazz ensemble, philharmonia orchestra, trombone choir, and trombone octet. While there, he performed at the Florida Jazz and Blues Festival with the big band and hosted the jam session afterward. Outside of Florida State, Daniel began playing at the local venues, played in pit orchestras, performed with numerous bands, and was in the corporate wedding band scene. At University of Rhode Island, Daniel played with the university's trombone ensemble, big band, and orchestra. Outside of school, Daniel performed all over New England playing shows in Providence, RI, Boston, MA, Hartford, CT, and New York City in different musical settings. He performed with the rap group 10issues and has recorded at the Bushnell Theater in Hartford as part of the theater's Local Arts Stage program.
Outside of performing, Daniel is an educator and composer. He has written numerous compositions and has arranged for jazz nonet, jazz trombone quartet, and big band. He has also won the IndieEye Film award for Best Original Music in March of 2022 for the short film 'Four Pins' where he arranged and also recorded for the film. He also taught at the University of Rhode Island as part of his graduate assistantship and taught jazz history, hip-hop history, and the fundamentals of music. He also teaches jazz and low brass independently.
Daniel's inspiration in music are the jazz masters Curtis Fuller, Julien Priester, Art Blakey, Miles Davis, John Coltrane, McCoy Tyner, Ahmad Jamal, Darryl Reeves, and Roy Hargrove. Outside of jazz, his inspirations are Parliament Funkadelic, MF Doom, A Tribe Called Quest, Tyler the Creator, and Madlib.
Education
D.M.A. Eastman School of Music (Pending)
M.M. University of Rhode Island
B.M. Florida State University
A.A. State College of Florida Manatee-Sarasota