Chaz Antoine Barracks
Department of Communication and Rhetorical Studies
Future Professors Fellow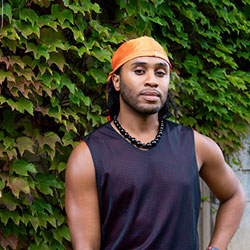 100 Sims Hall
Syracuse, NY 13244-1230
Chaz Antoine Barracks is an artist-scholar, mixed-media filmmaker, and postdoc fellow who earned a Ph.D. in media, art, and text from Virginia Commonwealth University in 2020.
Barracks (pronouns: he/they, him/them, his/theirs) has held positions at the University of Pennsylvania's Annenberg School for Communication, VCU's School for the Arts, University of Richmond's Bonner Center for Civic Engagement, and has been an English instructor and cultural advisor in a Japanese Exchange Teaching program. 
Barracks is invested in interdisciplinary research and a creative practice that centers Black joy and uses storytelling to bridge knowledge gaps in the things we seldom learn about in academe when it comes to Black life in America. 
There is as much to learn from media and art centering on Black joy, as there is in the often-mainstream depictions involving struggle, trauma and death. I'm interested in showing everyday Black life as a form of fine art. – Dr. Chaz Barracks 
Using mixed-media research methods — podcast-style interviews, film analysis, and short film directing and writing — Barracks explores how these media ground nuanced Black experiences as critical knowledge for learning about cultural production. 
Barracks' work expands on equity-driven initiatives regarding diversity in scholarship. His media-making practice and community engagement also inform his pedagogy drawing on performance, photography, visual art, and public exhibitions to explore identity and to challenge established disciplinary backgrounds and the social norms of students. 
Notable Achievements
"Don't Touch My Hair RVA" premiered at the Afrikana Film Festival in Richmond, Virginia.

 

"Everyday Black Matter" was chosen for the 2021 American Black Film Festival

 

Honoree of Diversity Richmond's 2022 Black and Bold Award recognizing and celebrating leadership on behalf of the Black LGBTQ+ community
Research Interests
Critical media studies

Black queer aesthetics, placemaking and storytelling

Black feminist narratives

Black joy as a form of resistance/refusal

 
Courses Taught
Black Joy, Aesthetics and Critical Media Studies

Media, Culture, and Identity

 
Professional Links