Charles E. Morris III
Department of Communication and Rhetorical Studies
Professor
Affiliated Professor, LGBT Studies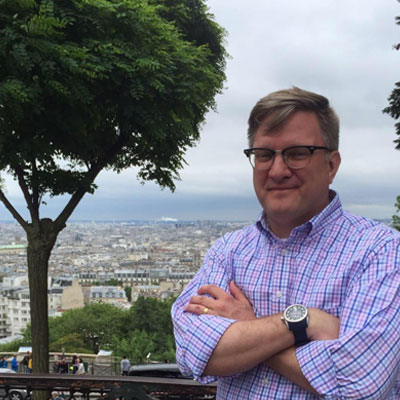 100 Sims Hall
Syracuse, NY 13244-1230
Charles E. Morris III (he/him/his) is a queer rhetorical critic whose research focuses on LGBTQ history and public memory.
Morris is co-founding editor of QED: A Journal in GLBTQ Worldmaking. His books include Queering Public Address, An Archive of Hope: Harvey Milk's Speeches and Writings, Remembering the AIDS Quilt, and The Conceit of Context. His essays and guest edited special issues and forums have appeared in the Quarterly Journal of Speech, Rhetoric & Public Affairs, Communication & Critical/Cultural Studies, Text & Performance Quarterly, Women's Studies in Communication and elsewhere. His current project communes with the million forgotten dead on Hart Island off the coast of the Bronx.
In 2022, Morris was inducted as a Distinguished Scholar by the National Communication Association. He has also been the recipient of NCA's Douglas Ehninger Distinguished Rhetorical Scholar Award (2021), three-time recipient of NCA's Golden Monograph Award (2003, 2010, and 2022), as well as NCA's CCS and RCT divisions' distinguished scholar awards (2020, 2016), the Randy Majors Award for Distinguished LGBTQ Scholarship (2008), and the Karl Wallace Memorial Award (2001) for early career achievement.  \
EDUCATION
PhD, The Pennsylvania State University, 1998
SELECTED PUBLICATIONS
** Daniel C. Brouwer and Charles E. Morris III, "Decentering Whiteness in AIDS Memory: Indigent Rhetorical Criticism and the Dead of Hart Island," Quarterly Journal of Speech 107 (May 2021): 1-25. Recipient of the 2022 NCA Golden Anniversary Monograph Award.
** Morgan DiCesare & Charles E. Morris III, "Queer/ing Archives." Oxford Research Encyclopedia of Communication, eds. Isaac N. West and Gust Yep. New York: Oxford University Press, 2022. 
** Charles E. Morris III and Kendall R. Phillips, eds., The Conceit of Context: Resituating Domains in Rhetorical Studies (New York: Peter Lang, 2020).
**Charles E. Morris III, "My Old Kentucky Homo: Abraham Lincoln, Larry Kramer, and the Politics of Queer Memory." Queering Public Address: Sexualities in American Historical Discourse. Ed. Charles E. Morris III. Columbia, SC: University of South Carolina Press, 2007: 93-120.
** Charles E. Morris III, "Pink Herring and the Fourth Persona: J. Edgar Hoover's Sex Crime Panic." The Quarterly Journal of Speech 88 (May 2002): 228-244. Recipient of the 2003 NCA Golden Anniversary Monograph Award.
Course Taught
Epidemic Rhetorics
Rhetorical Criticism
Rhetoric & Public Memory
Lincoln's Rhetorical Worlds