Carmen M. Martinez
Department of Drama
Assistant Professor, Theater Design and Technology
Program Coordinator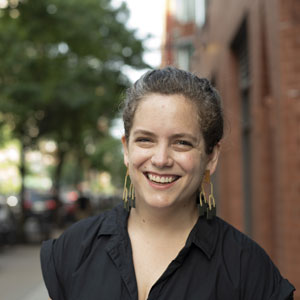 Syracuse Stage/Department of Drama Theater Complex
820 East Genesee Street
Syracuse, NY 13210-1508
Carmen M. Martinez is an assistant professor of theater design and technology in the Department of Drama, mainly teaching classes in scenic and costume design. In Spring 2021 Martinez served as a visiting assistant professor of set design in the drama department, during which time she established a collaborative relationship with artist Carrie Mae Weems.
Prior to Syracuse, Martinez lived in New York City, where she founded and ran her own studio, all of the things, making and designing everything from small costume pieces to fully realized productions. Among her clients were Katy Perry (2017 Metropolitan Museum of Art Costume Institute Gala performance), Lisa Lampanelli ("Stuff'd"), and several theaters and performance spaces in the city (Atlantic Theater, the Cherry Lane Theater, the Park Avenue Armory). Her design credits include "The Wild Party" (Syracuse University Drama Department), "James and The Giant Peach" (Atlantic Theater), and "King Lear" (Cherry Lane Theater). Before concentrating on theater, Martinez worked as a graphic designer at both the Museum of Modern Art (MoMA) and the Metropolitan Museum of Art in New York City.
Martinez's focus is in storytelling, color, and the ways in which all artforms interconnect and relate to each other. She earned an M.F.A. in theatrical design in 2014 from Yale School of Drama and a B.F.A. in graphic design (with honors) in 2008 from the Rhode Island School of Design. 
A citizen of Peru, Martinez holds an O-1 visa for Extraordinary Abilities in the arts.

Download her resumé.
Education
M.F.A., Yale School of Drama
B.F.A. Rhode Island School of Design