Carmel Nicoletti
School of Design
Assistant Teaching Professor
Program Coordinator, Design Studies B.S. & Minor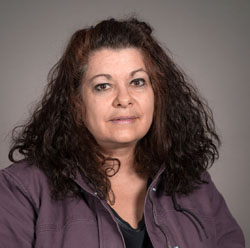 5th floor, The Nancy Cantor Warehouse
Syracuse, NY 13244-1180
As both a visual artist and dancer I have always been interested in movement and human gesture. In both areas I explore the breath that is the foundation of movement. I continue to explore new ways of expressing this throughout my work.
The relationship of color and fluid motion interests me. In my work I focus on pathways that occur in motion and gesture. I use materials such as glass and metal that were once liquid.
The colors present in these materials have intrinsic qualities that evoke human response, often suggesting a place or experience. I shape and combine these materials to emphasize particular elements of motion such as rhythm, contraction, release, pulsation, and flow and put them in architectural and sculptural frameworks.
My academic concentrations are in the areas of design, color, art history, aesthetics, and dance. I am especially interested in cross-disciplinary connections.
My teaching style emphasizes the flow of one idea to another. I see each student as having a personal path. My job as an instructor is to help in the discovery of this pathway, leading to connections between percept and concept.
Education
M.F.A., Syracuse University