Andrew Zhou
Setnor School of Music
Assistant Teaching Professor, Music Theory and Composition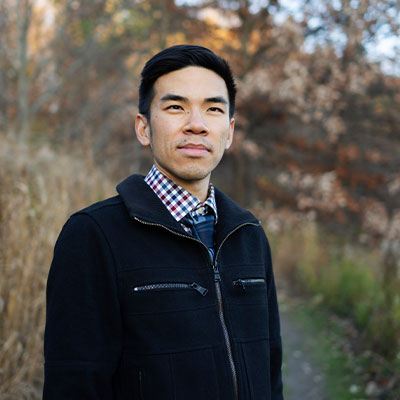 301 Crouse College
Syracuse, NY 13244-1010
Born in San Diego and raised in British Columbia and California's Bay Area, pianist Andrew Zhou has been noted for his "great sensitivity" and "luminous technique" (Anaclase), as well as performances of "extraordinary energy" whose "sonic range and expressive power stun under his steely fingers" (ResMusica).
Second-prize laureate at the Concours International de Piano d'Orléans, where he garnered four special awards, Zhou has been heard on WQXR, SWR, and France Musique, and has worked closely with leading composers of our time, including Unsuk Chin, Tristan Murail, and Walter Zimmermann as well with numerous conductors including Matthias Pintscher, Jean-Philippe Wurtz, and Julien Leroy.
Polymathic in temperament, Zhou composes and writes on sundry topics intersecting the musical, social, and literary. He is a fierce proponent of recovering and performing historically erased works, while his performances make the most complex contemporary scores accessible to audiences. Zhou has toured throughout France and has appeared in major venues such as the KKL (Lucerne Festival), Tongyeong Concert Hall, and the Théâtre des Bouffes du Nord (Paris). He has been the recipient of commissioning grants from the Arts Council of Ireland, the Galaxie-y Funds, and the Fromm Foundation. His piano duo HereNowHear, which focuses on commissioning boundary-breaking repertoire centered on performances of Stockhausen's "Mantra," has been the dedicatee of numerous new works. He has been a member of the Aspen Contemporary Ensemble and Ensemble Ulysses, and currently serves on the curatorial team and coaching faculty as Contemporary Leader and Diversity Steering Committee member for the Lucerne Festival Academy.
Zhou's primary teachers include Xak Bjerken, Bruce Brubaker, and Thomas Schultz, alongside influential work with Stephen Drury, Teresa Dybvig, Pierre-Laurent Aimard, and Tamara Stefanovich. His recordings include "Vienne et après" (Tessitures) "In Memoriam Paul Zukofsky" (the final disc on the historic CP2 label), as well as contributions to recordings on the Open Space and Outhere labels. His recent album "Présences Lointaines" (Solstice) features rarely heard works from a three-hundred-year tradition of virtuosic French music. He is currently working on a biography of Paul Zukofsky.
Education
D.M.A., Cornell University
M.F.A., Cornell University
M.M., New England Conservatory
B.A., Stanford University