Alix N. Ferrer-Yulfo
School of Design
Faculty Fellow, Museum Studies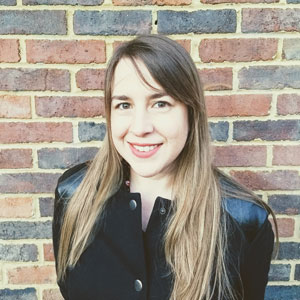 The Nancy Cantor Warehouse
350 West Fayette Street
Syracuse, NY 13202
Alix N. Ferrer-Yulfo, Ph.D., is a faculty fellow in museum studies in the School of Design. She teaches Introduction to Museum Studies and Historic Interpretation, among other courses.
Prior to joining Syracuse University, Ferrer-Yulfo was a teaching assistant at Newcastle University, United Kingdom, from 2016-2021 where she taught in all core modules of the graduate program in museum, gallery and heritage studies. She was also research assistant for several museum and heritage-related projects at both Newcastle University and St. Andrews University, United Kingdom, during the completion of her doctoral degree at Newcastle University. Prior to Newcastle, she served as instructor at National University College, Puerto Rico, from 2012-2014, teaching general humanities. She has been a guest lecturer at universities in the United Kingdom, Spain, and Puerto Rico, where she has presented on her research projects and interests.
Ferrer-Yulfo is a multilingual interdisciplinary researcher, museum professional and heritage consultant specializing in museology and intangible cultural heritage safeguarding and management. Her research interests include intangible cultural heritage museums; the documentation of living heritage; community involvement in cultural policies and museum work; the decolonization of museum and heritage studies; and alternative forms of museology. These themes are discussed in her latest article "Intangible Cultural Heritage Museums: further considerations for a new museum definition" published in the ICOFOM Study Series, 48(2), pp. 97-108. Among other projects, she is currently working on a paper discussing different global perspectives on the decolonization of museum and heritage studies and practices to be published in the fall of 2022.  
Ferrer-Yulfo's doctoral degree was supported by the Newcastle University Overseas Research Scholarship (2016-2019) with fieldwork in Spain and Portugal supported by the Santander Mobility Award and the Newcastle University Centre for Latin American and Caribbean Studies Mobility Award. Her research presentation was awarded the "Excellence with a purpose" prize during the Humanities and Social Sciences Research Showcase at Newcastle University.
Ferrer-Yulfo is a fellow of the Higher Education Academy (UK) and a member of the Association of Critical Heritage Studies, the International Council of Museums and its Committee for New Museology, the American Alliance of Museums, and the Puerto Rican Alliance of Museums.
Ferrer-Yulfo earned a Ph.D. in media, culture, heritage from Newcastle University; an M.A. in cultural management from the University of Puerto Rico (highest distinction); an M.A. in South Asian Area Studies from the School of Oriental and African Studies in London (with merit), UK; and a B.A. in European history from the University of Puerto Rico (with honors).  
Education
Ph.D., Newcastle University
M.A.,  University of Puerto Rico
M.A., School of Oriental and African Studies
B.A., University of Puerto Rico