Alex Méndez Giner
Department of Film and Media Arts
Associate Professor, Film
Program Coordinator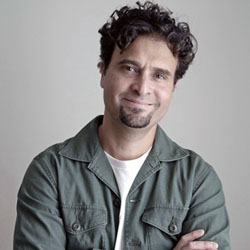 353 Shaffer Art Building
Syracuse, NY 13244-1210
Alex Mendez Giner is a filmmaker whose works defy the boundaries of storytelling, exploring complex characters at the intersection of subjective experience, reality and the marvelous real. His meticulously designed images, redolent of an allegorical atmosphere, create a visual experience capable to subsume other senses.
He has screened in major international film festivals including Clermont-Ferrand Film Festival, Milan International Film Festival, Viña del Mar International Film Festival, Sapporo International Film Festival, Guadalajara International Film Festival, Bilbao International Film Festival, and Durban International Film Festival. He is recipient of the Audience Choice Award from the Shanghai International Film Festival, the Grand Prize from the Snowtown Film Festival, the Best Film and Best Directing Awards from the Caracas City Hall Film Awards, the Best Story Award from the Buffalo-Niagara Film Festival, and a production grant from the New York State Council of the Arts.
He is founder artist of the Multimedia Center for the Arts at the Contemporary Art Museum of Caracas and has been guest speaker at Santa Maria Della Scala Museum in Siena, University of the Andes in Colombia, State University of New York at Oswego, the Wits School of Arts in Johannesburg and the National University of Laos, among others. He teaches Narrative Storytelling, Cinematography, Film Production and Scriptwriting.
Education
M.F.A., Syracuse University
M.A., Universidad Autónoma de Barcelona, Spain
B.A., Universidad Católica Andrés Bello, Venezuela