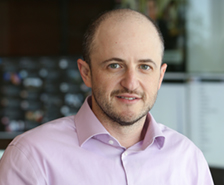 Philip Metz, a 1998 alumnus of the Department of Communication and Rhetorical Studies (CRS), has funneled his passion for entertainment and sports industries into a vibrant career at NASCAR, where he serves as managing director of entertainment marketing and music.
This wasn't what Metz envisioned for himself as a student in the CRS program, where he minored in music industry with a concentration in entrepreneurship.
"I wanted to work in the music industry for a record label," says Metz. "I sought out clubs where I could gain experience in this realm." He was active in the University Union, serving on the Concert Board for three years and as chair in his senior year. He secured talent for the University's Block Party, a concert series that students eagerly anticipate each fall. Metz also became an on-air DJ at WJPZ, a student-run radio station.
His vision became a reality when he secured a position at a record company in the early 2000s. But as the move to stream music threatened the success of record companies, he found himself bouncing from label to label.  A mentor of Metz's recommended him for a NASCAR opening, entailing a six-month interview process for a job that morphed into his current position.
Metz works within the marketing department to keep NASCAR relevant in pop culture. He organizes pre-, mid- and post-race concerts; picks entertainment; negotiates artist deals; and enhances events with influencer and celebrity attendees.
One of Metz's significant career accomplishments is developing his work program with colleagues. NASCAR didn't always have artists and celebrities performing at and attending its events. He is proud that he and his coworkers have created an environment where entertainment fits into the NASCAR world.
A career milestone: Ice Cube recently performed at an event. "When I started there, that would have never happened," says Metz. "To see Ice Cube, a music icon, performing at halftime in the first-ever NASCAR race at the Coliseum was truly history in the making."
Some of his favorite CRS classes prepared him for his career success, including Concepts and Perspectives in Rhetorical Studies, Public Speaking and Small Group Communication, where he gained valuable experience working in a small team environment.
Reflecting on his time at Syracuse University, he urges CRS students to engage in campus clubs and seek internships. "Don't just rely on your degree," he says. "Push yourself; pair the degree with other things. In the summer when you can, intern and look for opportunities to get real-life work experience while you're in school."