Holly E. Brown '98
Alumni Spotlight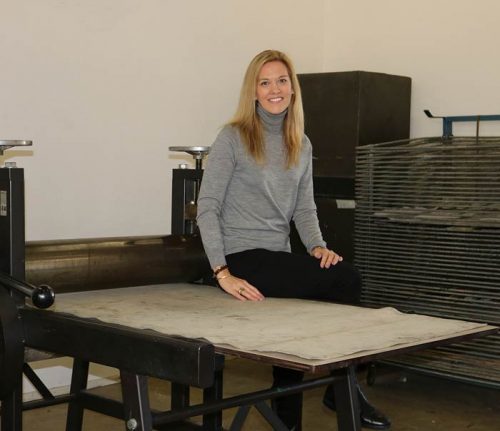 Holly E. Brown majored in printmaking and graduated from the College of Visual and Performing Arts in 1998 with honors. She is now a printmaker based in Brooklyn, New York, and head elementary art teacher at Convent of the Sacred Heart in Manhattan.
Tell us a bit about your career since you graduated from SU.
It's hard to believe it has been 18 years since I left the Quad and the comforts of my favorite place on campus, ComArt. After finishing as a printmaking major in December 1998, I moved to Brooklyn the following spring to take an entry-level position in the visitor services department of the Guggenheim Museum. It proved to be an excellent starting point for my career in the arts, as I gained valuable insight into museum installation and contemporary living artists, and I assisted in designing a handbook for visitors with disabilities.
However, I soon realized that my interest was more in working with the children who were visiting the museum. I decided to enroll in Brooklyn College's master's in art education program. The program was exactly what I was looking for, and I left the museum to student teach at the prestigious LaGuardia High School for the arts. I later applied for an after-school position at Convent of the Sacred Heart, an independent all-girls school in Manhattan. Unfortunately, I was told the position had been filled but that my resume would be kept on file. I continued to look for other work, and much to my surprise, just a month later in January 2001, I received a call from Sacred Heart and was offered an assistant lower-school art teaching position.  This role was an excellent way for me to try out what I was learning in my M.A program with the students. You could say it was the right place at the right time, but just two years into the position the head teacher retired, and I was offered the position. With my M.A. now complete, I was thrilled to put all I had learned in both my B.F.A. at SU and my now teaching degree to work.

And what about your career as a printmaker?
Although I was teaching full time, I managed to find some time to keep up with my printmaking by taking workshops at the National Academy of Design and Center for Book Arts, utilizing the press at the Lower East Side Printshop, and participating in a couple group exhibitions. A major turning point came in 2005 when I was awarded an artist/teacher summer residency at the Cooper Union for the Advancement of Science and Art. This experience was just what I needed to keep my hands fully involved in my art-making career. Without access to a press, I utilized the time to push myself in a new direction by creating three large-scale charcoal drawings inspired by the Cyclone roller coaster in Coney Island. During my time at SU I was already exploring working with images of architecture and especially that of urban environments.  The sharp lines and graphic qualities of the coaster's structure intrigued me. This was a turning point that would later impact the way I made prints.
In 2006 I took some time away from art making to have my son, Lucas. One of my greatest works to date! Fast-forward a few years and with my teaching career fully established I began to venture back into the world of printmaking.  During a summer teacher intensive in 2014 at Ringling College of Art and Design I was incredibly inspired and realized it was time to pursue my printmaking at another level. The following spring I had an amazing SU printmaking alumni connection, Michael Russem '97, ask me if I still had any of the SU Honors thesis portfolios we had worked on together. Luckily, I still had a few in the back of closet.  He placed me in contact with a book dealer in California, and the next thing I knew I was viewing my portfolio in the online card catalog of the Poets Laureate Collection of the Library of Congress! This was another reminder to keep at it and push m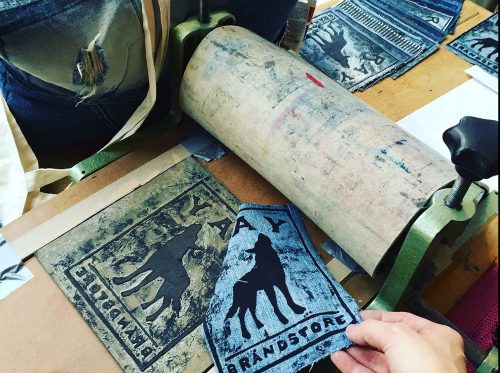 yself to find ways to keep making art while teaching.
You recently traveled to the Netherlands to make work. How did this impact your printmaking?
With family roots in the Netherlands, I started to research opportunities for printmaking abroad. I was fortunate to secure a residency at the Grafische Werkplaats, the Hague, Netherlands, for the summer of 2016. I was also able to make contact with Ray Brandstore, an urban clothing boutique in Delft, Netherlands, where I would have a solo exhibition of the completed work in the fall of 2016. During my time printing at Grafische Werkplaats, the Hague, I wanted to push the collagraph technique I had been working with during both my B.F.A. and M.A. to a larger scale. I worked on heavy cardboard and carved the images with an X-Acto knife. It is a labor-intensive process; I had a goal to complete three large plates (40.5 centimeters square, or 16.5 inches). Having time to experiment was very valuable, and as a result I began testing out my work on recycled denim. Ray Brandstore donated several jeans to me from their customers. I was thrilled with the way in which working on fabric changed my images. But at the time, I had no idea what I would do with the material after I had printed on it.
I came back to NYC in August to return to my classroom completely rejuvenated and ready to dive back into teaching. I was also itching to keep working with the recycled denim and did a lot of research online to see different ways I may make a structure out of the printed material. In the end I decided to combine my interest in sustainability and fashion and create handbags. The style of the bags is directly connected to my Dutch roots. Coming from great-grandparents who immigrated in the 1900s by ship to Ellis Island, I imagined the idea of a carpet bag of my great-grandmother and used that shape as the inspiration for the series of clutches. At this time the clutches are in the prototype phase. I am actively getting feedback and reworking my ideas and looking at expanding to other bag forms. My press name, Clockworks Press, was established during my time at SU and will remain my company name. I plan to continue teaching art and pursuing my new business as an entrepreneur.
Why did you decide to attend SU and VPA?
I entered SU my junior year as a transfer student after attending another small college in Western New York. My printmaking professor saw something in me and encouraged me to apply to a program that could help me take my strong interest in printmaking to another level. Having had several relatives attend SU, I knew SU had a strong name, so I decided to take a look at VPA. It was evident when I visited campus that SU's printmaking program had a strong energy that I had not experienced. I was captivated by all the possibilities in the well-equipped studio.  When I was accepted I couldn't wait to smell the ink and turn the press. The welcoming faculty I met on my visit and the openness of the students made me feel like the print shop was a little "family." To this day I can still count many of those folks as close friends.
Collaboration was a key component of the comradery among the students in VPA. After my first semester I caught wind of the upper-level Honors Program. I was completely intrigued at the chance to participate in something as stimulating and challenging as creating a thesis and quickly applied. Printmaking Professor Don Cortese had already introduced me to the concept of creating a portfolio of prints in a series. I knew this approach appealed to me, and I designed a portfolio project that would allow me to collaborate with many former SU print majors as well as the Bixler monotype-casting foundry in Skaneateles, New York. Yale and the Library of Congress later purchased this portfolio project.
How do you feel SU and VPA helped prepare you for a career as a professional printmaker and arts educator?
Both SU and VPA prepared me incredibly well for the art world of NYC. Through the completion of the upper-level Honors Program, I already had the experience of talking about and defending my work in front of a group of professors. I found the critiques in my studio courses throughout VPA to be incredibly helpful. SU gave me the confidence and drive I needed to pursue life in the fast-paced art environment and balance life as an artist and a teacher. Through involvement in activities at SU's Lubin House, NYC, I quickly discovered that there was a large network of graduates in NYC. I actively participate in the panel for prospective VPA students each year and love giving back to the SU community in this way. My solid background from SU helped me feel confident entering the teaching environment since I had so many opportunities to speak in front of groups during my time on campus.
What do you remember most about your time at SU and VPA?
The one thing that sticks out the most for me from my time at SU is the comradery and dedication that exists throughout VPA. I found the professors very willing to go out of their way to help students. I even had a professor drive into campus on a weekend to help me reset some type. With printmaking as a smaller major, there was a strong bond among the print majors and also with the grad students. The print studio was a place where you could feel comfortable exploring but also where an exchange of ideas was inevitable.
The other truly amazing part about SU is that you are part of a larger university, so you can take classes within the other colleges and meet students who might impact your art in ways you wouldn't imagine. For me, it was an English major from the Arts and Sciences school that first introduced me to the poetry of Charles Simic, the writer whose work later had a direct impact on my Honors thesis. In addition, with other art disciplines in the same building with printmaking, it's quite easy to push yourself with materials. I loved taking sculpture, fibers, and ceramics classes. I definitely believe that has impacted the way I work today and how I research ideas.  I'm never afraid to try a new medium or surface treatment with my prints.
Another incredible experience was the internship I had with Arak Kanofsky Studios, a professional print studio run by VPA grads Heather Arak-Kanofsky '92 and Nathan Kanofsky '92. In one summer I learned the ins and outs of being an assistant to a master printer.  We worked on large multi-plate etchings. Heather and Nathan were incredibly generous with their advice and time. This internship exposed me to the experience of working with clients and other artists. In conclusion, I would say the biggest thing VPA gave me was the courage to become a real risk-taker. Without risks you can't grow as an artist.
What career advice would you offer our current student artists?
In short, I have a few key points of advice to share with all the amazing SU art students:
Number one is definitely network, network, network on campus and off.
Take advantage of the amazing art facilities in VPA; once you graduate they won't be as easy to find, and they will cost you money!
Take risks, push yourself out of your comfort zone, and do it with gusto!
Get involved in campus life so you can connect with others outside VPA; you will need each other in the future.
Take an entrepreneurship class and learn about business management—two things I'm doing now but wish I had done when I was at SU.
When you graduate, don't leave SU behind; network in the city you reside in, and find ways to give back. You never know who you will meet, and it feels great to know you can let someone see just how special the 'Cuse really is! Being an SU graduate means you are part of a fantastic family, and we're all here to help you!