It was a coincidence that resulted not only in a once-in-a-lifetime opportunity for College of Visual and Performing Arts (VPA) design students, but a first for the college's School of Design itself. Rebecca Kelly, assistant professor of communications design, was looking for ways to engage her students in a real-life design project, with emphasis on the need for future designers to think and work globally. At the same time, the United Nations was seeking assistance in designing its presence for Expo 2020 Dubai, highlighting the organization's 75 years of existence. By pure happenstance, Kelly saw the U.N.'s general call to universities for help designing the exhibition "Connecting Minds, Creating the Future." She responded, offering all of the design majors as collaborators with the international organization, and was accepted.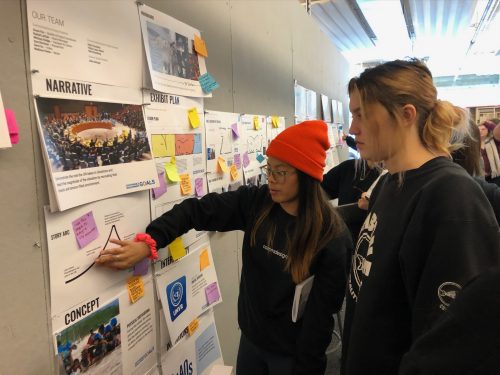 To create the project's parameters, Kelly worked with colleagues throughout the School of Design—Marc Stress, communications design; Seyeon Lee, environmental and interior design; Meriel Stokoe, museum studies; and Louise Manfredi, industrial and interaction design. "It was the first time the entire School of Design collaborated in a single, international project," she says.
During the course of the semester, that spirit of unified purpose flourished among the students, as well. "My biggest take-away from this project was the power of collaboration," says Emily Braunstein '21, a communications design major. "Working with students from other majors allowed me to see all of the disciplines in progress and witness the power of a community. We all brought our skills and design capabilities to create something we were proud of."
During the semester-long course, the students worked in teams to create five different design concepts, complete with three-dimensional (3D) mock-ups. Close attention was paid to making the designs conceptually sound, visually attractive, engaging and interactive and physically accessible. "We lived, breathed, and dreamt about this project for months," says Jane Ciminera '21, a dual major in communications design and women and gender studies. "It was truly an amazing experience working on an interdisciplinary project—especially with the environmental design students. They helped us to be more aware of accessibility standards when designing a space—creating renderings, floor and ceiling plans and mood boards for us all to explore."
Firmly believing that the students deserved to showcase their talent before the client, Kelly was determined to raise the funds needed to bring nearly 60 of them to the U.N. "Thanks to our generous funders, we raised more than $6,000 to give students the invaluable experience of actually presenting their work—in person—to U.N. representatives at their headquarters in New York City," says Kelly, who kept the funding secret, then surprised the students with an announcement that they were all going to the United Nations. She laughs, recalling the challenges of getting all those people, as well as the 3D mock-ups, through stringent U.N. security.
Attending the student presentation on December 4, 2019, were Maher Nasser, director of outreach division and commissioner-general of the U.N. at Expo 2020; Jayashri Wyatt, special assistant to the director and chief of exhibits at the U.N. Department of Global Communications; Amanda White, creative director of the U.N. Pavilion for Expo 2020 Dubai; and Trine Schmidt, associate expert in communications and partnerships at the U.N. Department of Global Communications. Schmidt notes that while the U.N. has a long history of collaborating with universities, this was the first time the organization worked with students who collaborated across various disciplines to design a U.N. pavilion. "We were very impressed with the insights, rational and designs presented to us by the teams," she says. "When we presented the challenge to Professor Kelly in early 2019, we didn't dare expect the amazing results we saw. VPA proved to be an ideal partner, as the faculty involved understood the significance of the work of the U.N. in tackling global challenges, as well as the design challenge itself."
Due to open with more than 190 pavilions in October 2020, Expo 2020 Dubai will have widespread exposure, drawing millions of visitors from around the world. Kelly expects the strong connections forged with the U.N. during this project to produce long-term benefits for VPA and Syracuse University, which have already received positive publicity through social media posts by U.N. representatives. "The best projects are always those that lead to others," she says. "For a program to earn open-ended future collaboration with such a prominent and renowned partner—that's my idea of a best-case scenario."
Emily B. Pearson '21, an environmental and interior design major, is grateful to the design professors and the United Nations for giving the students the chance to take part in such an impressive, real-life project. "Developing and presenting ideas for the United Nations pavilion at Expo 2020 was an opportunity we never thought we would have," she says. "Presenting our work at the U.N.—and seeing our designs used to change the world—really put into perspective the many opportunities we have here as VPA students."
~Paula Meseroll