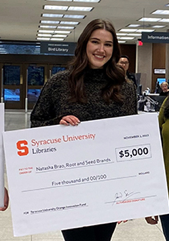 Natasha Brao '22, G'23, G'24, a communications design alumna of the College of Visual and Performing Arts' School of Design, was one of three winners of inaugural Orange Innovation Fund awards, a grant program administered through Syracuse University Libraries designed to help students commercialize their research ideas.
Brao, who received a graduate degree from the Whitman School of Management and is currently pursuing an MBA from Whitman, is the recipient of the Syracuse University Orange Distinction Award and an Invest in Success Scholar.
She is founder of a creative agency that creates brand strategy and design for clients ranging from products to services to environments. She also serves as the lead designer, marketing team lead and innovation mentor at the Blackstone LaunchPad.
A culinary entrepreneur who is fascinated by food creativity, she is also founder of Root and Seed Brands, a company that is bringing real, whole and culturally diverse food products to market. This Orange Innovation Fund award will help her produce her official batch of product, Shooka Sauce, a Mediterranean spiced sauce that celebrates the mixing and melding of cultural flavors.
Working with the LaunchPad and Whitman faculty, as well as industry advisors, she recently produced her first test batch of professionally bottled sauce, which won accolades and funding in Whitman's fall 2023 Orange Tank. She incorporated her venture with the assistance of a LaunchPad Innovation Award (funded by Syracuse University Libraries' Advisory Board member Jeff Rich '67) and is now working with a co-packer in Rochester to bring the product to market.
This grant will help her with final third-party independent nutritional analysis, labeling and other regulatory requirements, and to start larger scale production of her sauce for market placement.