Daniel Lee chose to attend Syracuse University because of the flexibility of the communication and rhetorical studies (CRS) curriculum and the many opportunities that both the University and program have to offer.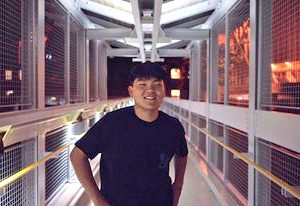 Lee is a sophomore from Los Angeles, California, and is pursuing a degree in CRS as well as a minor in information management & technology. To supplement his academics, Lee is also a residential advisor for Sadler Hall, one of the first-year student dorms, and serves as the vice president for KASA: Korean-American Student Association.
"Being a residential advisor has not only been financially helpful, but also helpful in what I would like to do," he says. "I do want to get involved in the hospitality industry, so this has taught me how to be helpful to the people around you and to navigate certain situations."
Lee's goal of working in the hospitality industry is then connected to the flexibility and purpose of the CRS curriculum. The CRS curriculum focuses on improving its students' communication skills through small-group discussions and papers. The curriculum offers many classes for those who are interested in media and entertainment, politics, organizational work, and many more. Learn more about the CRS curriculum.
"CRS has made me more confident and more motivated to accomplish my goals," Lee says. "I know that what I am learning in all of my CRS classes is stuff that is needed in a professional setting."
Although he is just a sophomore, Lee has had opportunities to take many CRS classes to satisfy his interests of working in the hospitality industry. He explains that his favorite class thus far was CRS 181: Concepts & Perspectives in Communication Studies, a class that all CRS students are required to take. The class focused on the different theories and methods of communication by linking the material to past and current events.
"The class was very interactive and open ended, so there were really no wrong answers," he says. "The ten-page papers were intimidating at first, but it was very stress relieving as I got used to it."
Daniel is excited to continue his CRS journey in the Spring 2021 semester and looks forward to improving his professional skills. He is confident that all of the classes that CRS has to offer will give students the opportunity to not only improve their professional skills but their communication skills as well.
"Being a part of CRS has given me a great college experience, and I would not have had it any other way," he says. "The CRS program is an underrated program, and I hope that more students look into joining."
–This story was written by the CRS student news team. Contact them at .