If you ask Jason Cicci why he enjoyed being a student in VPA's Department of Drama, he recalls the conservatory-style training that allowed for creative exploration, SU's proximity to New York City, the benefits of a large university setting, and making good friends. If you ask him which aspects of his drama education most benefitted his career, he can sum it up with one word: resourcefulness.
"Our training had us delving deep into who we are in life," says the 1993 alumnus, who majored in acting. "Knowing how to utilize your personal talents, common sense, instincts, and ingenuity are important in forging a career in the arts."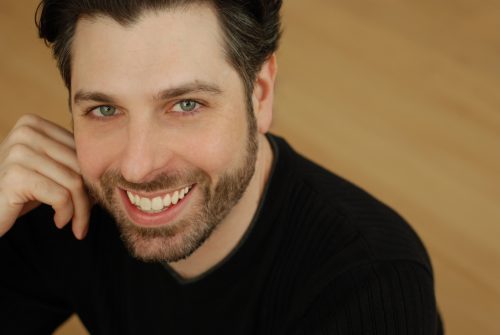 Cicci's resourcefulness has allowed him to flourish as an actor, writer, and producer Off-Off Broadway, in television and film, and even online. Last year he created, wrote, financed, and starred in the comedic web series "He's With Me." The show's first 10-episode season garnered several nominations for web series awards and was named a selection of the Independent Series Awards. Cicci also was featured in the Sunday, March 2, New York Times article "If You Can't Get Onstage, Go Online," which highlights the growing number of actors who are taking advantage of this medium.
"After producing Off-Off Broadway theater for about 15 years, I wanted to create something that would showcase my acting and writing work but be more easily accessed by a larger audience for an infinite amount of time," says Cicci. "In writing a web series, the first challenge is choosing an appropriately sized story for the medium. I always say that 'He's With Me' is a small show about big things—its success hinges on the characters and their development as people we relate to. You can certainly write something larger if your budget will sustain it, but to begin, starting small is a great way to get your feet wet."
Cicci began his career in television. His first job after graduating from the drama department was the lead role in an episode of NBC's "Unsolved Mysteries."
"I gained some experience working in front of a camera and utilizing some of the improvisational skills I was taught," he says. "Since I received my SAG [Screen Actors Guild] card from the shoot, it was my first experience dealing with unions. I was also a huge fan of that show at the time, so it was so much fun to actually be a part of it.
Cicci went on to star in such Off-Off Broadway productions as "Swimming in the Shallows," "Hate Mail," Shakespeare's "What You Will," "108 Waverly," and "Veronique," as well as the SAG shorts "The Song," "Blackout," and "The Stewart Family Funeral" and appearances on the television shows "30 Rock" and "As the World Turns" (see his full list of credits at http://jasoncicci.com). He also was featured in his play "A Month of Sundays" and "Closet Chronicles," starring Emmy Award-winner Marilyn Sokol, which were produced by Monday Morning Productions, a company he founded in 1998.
"As the owner of my own arts company, I've learned so much about the process of telling stories," he says. "Further, by offering workshops in the arts, I've had the pleasure of speaking at universities and summer camps. Those experiences help to keep me in a philanthropic place about what I've learned in the arts."
Recently, Cicci became co-owner of Abacus Entertainment, a boutique arts school and media production house—a combination he notes is unique.
"This means that at any given moment, I may be creating and hosting classes, casting voice-over sessions, and managing accounts for our corporate clients," he says. "I also write scripts for our animation classes, original actor reels, voice-over demos, sizzle reels, and web series promos. Most recently, we launched a camp for young people who may be interested in pursuing the performing arts. To be able to use my experience in a way that helps people is very gratifying. With my partners, Bryant Falk and Bruce Kronenberg, we provide the best voice-over and on-camera training to our students. To see them thrive in the entertainment business is something we take great pride in."
In addition to his work with Abacus, Cicci is currently writing season two of "He's With Me." He also served as a guest speaker at the Department of Drama's Tepper Semester immersion program in New York City, where he offered advice to seniors in the department who are preparing to graduate and embark on their careers.
"I advised them to keep their minds open to whatever opportunities come their way and not limit themselves," he says. "You may end up finding success in another part of the industry, like voice-over or writing or editing. You could also end up in a career you never envisioned—and like it! I have friends who have become television hosts, traffic reporters, and lawyers. All of them use their acting training.
"With aspiring actors, I always suggest making your own work—produce yourself in a theater piece, a short film or a web series. Writing or choosing a story, assembling the cast and creative team to tell it—this empowering initiative can make an actor feel more like an artist."