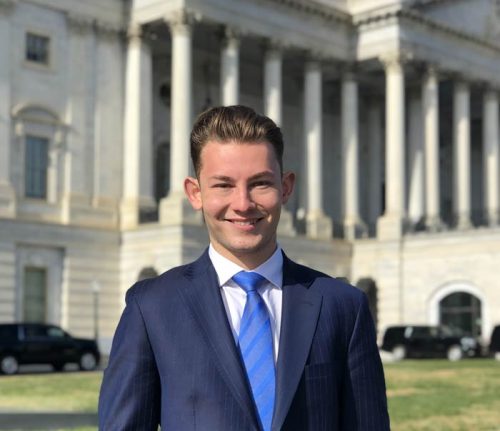 In September, James Martin '19, a graduate of the College of Visual and Performing Arts' Department of Communication and Rhetorical Studies (CRS), began working as a press secretary for U.S. Rep. Josh Gottheimer (N.J.-5). Martin is responsible for interacting with press on a daily basis, managing the congressman's social media, organizing press events, and writing speeches.
"As a CRS major, my classes have prepared me for the high-pressure environment that I have to work through on a daily basis," says Martin. "I'm so grateful for my professors and mentors that have helped me with this wonderful opportunity."
Martin was originally going to work for Gottheimer's campaign in the digital and fundraising department but was asked to join the official team in August.
Martin has completed internships with U.S. Sen. Charles E. Schumer (N.Y.), Madison Square Boys and Girls Club, the Partnership for Public Service and a private investigative firm. He hopes to own his own digital media, PR, and communications firm in the future as well.