The Setnor School of Music is located in beautiful Crouse College on Syracuse University's Main Campus. Built in 1889, Crouse College is the third oldest building on campus and is on the National Register of Historic Places.
Crouse's graceful spires and warm brownstone make it a landmark visible from many areas of the city of Syracuse. It is a building rich in history, with a working bell tower, stained glass windows, and winding stairways.
The main performance space in Crouse is the Rose and Jules R. Setnor Auditorium, which seats 650 and houses a 3,823-pipe Holtkamp Organ below a 70-foot-high open timber roof and stained glass windows. Approximately 200 events take place in the auditorium, including performances by school ensembles; recitals by students, faculty, and guest artists; and special events. Most performances are streamed live.
Crouse College also includes rehearsal spaces, classrooms, teaching studios, faculty and administrative offices, and practice rooms. The Setnor School of Music's jazz and commercial music opportunities are housed in the jazz suite at Shaffer Art Building.
Setnor students may also take advantage of the opportunity to perform in other Syracuse University facilities. Some choirs rehearse and perform in Hendricks Chapel, and students have performed in the Goldstein Auditorium in the Schine Student Center as well as the Carrier Dome as part of a cappella groups, theater groups, marching band, and pep band.
Belfer Studio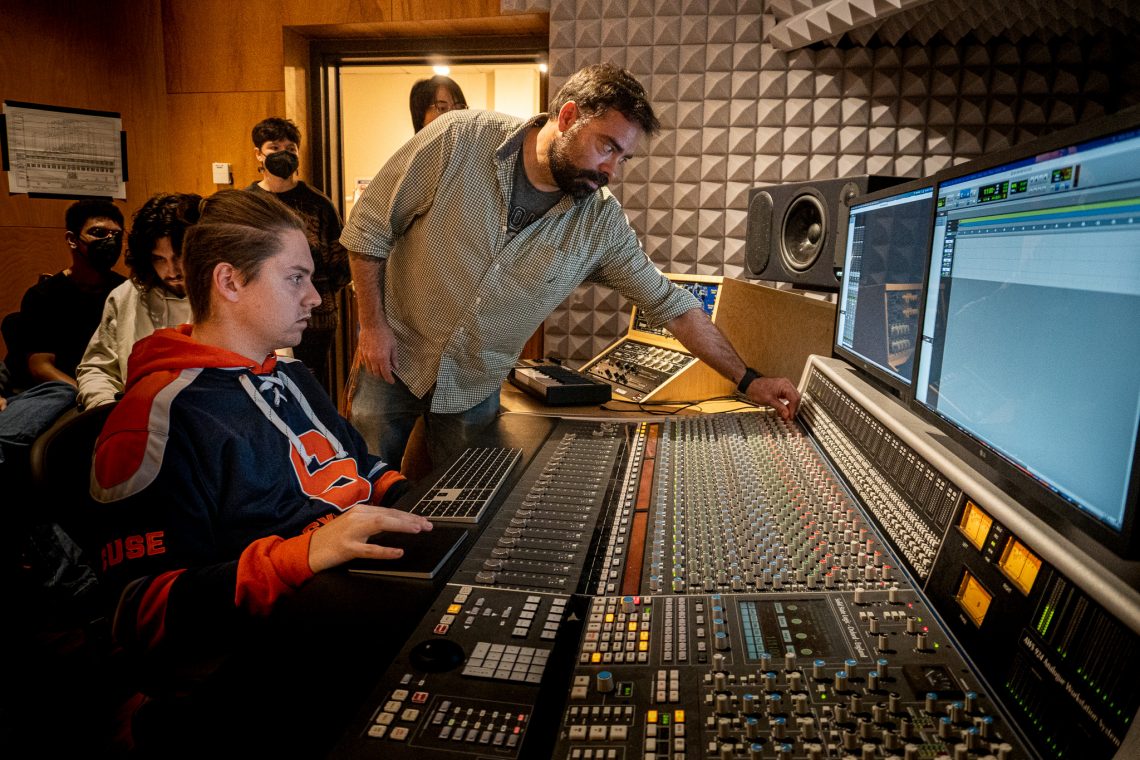 Recording facilities for the sound recording technology and audio arts programs are housed in the Belfer Audio Archive of Syracuse University Libraries. Belfer is the one of the largest sound archives in the country and includes formats from the earliest experimental recordings on tinfoil to modern digital media. The collection of 22,000 cylinder records is the largest held by any private institution in the world. One control room is furnished entirely with digital equipment by the Setnor School of Music.
The Belfer Laboratory has a Live End/Dead End recording studio and control rooms designed by Chips Davis, a nationally recognized acoustic expert and recording studio designer. The studio has been a cornerstone of industry academic offerings in Setnor for more than 25 years and is well known as an incubator for many future artists, audio engineers, and businesspeople who continue to shape today's music industry.
Equipment
Belfer Recording Studio boasts a large and comprehensive professional microphone collection with such brands as Neumann, Telefunken, Coles, Royer, AEA, Earthworks, Sony, Sennheiser, Cascade, Beyerdynamic, BLUE, AKG, Schoeps, Bruel & Kjaer, DPA, Electro-Voice, Shure, Audix, Audio Technica, and Oktava.
Full list of Belfer Equipment
Recording Services Studio
Recording Services operates within the Setnor School of Music to provide recording and other technical services to recitals and concerts in the acoustically vivid Setnor Auditorium. Under the supervision of a professional recording engineer, students provide audio engineering services for more than 200 events a year, serving as a valuable professional work experience in a mission-critical live production environment.
The Recording Services Studio is equipped with Pro Tools HDX 12, Steinberg Jones Wavelab, and Telestream WireCast. Events are also live streamed in HD audio and video using a state-of-the-art, fiber-optic-coupled multiple camera system. Like Belfer Studio, Recording Services possesses a comprehensive microphone collection and a signal path that is customized to highlight the unique acoustics and capabilities of Setnor Auditorium.