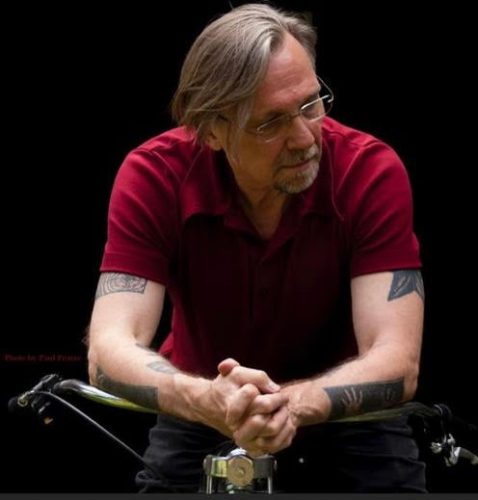 Leo Crandall, a filmmaker, musician and instructor of film in the College of Visual and Performing Arts' (VPA) Department of Transmedia, died unexpectedly on Saturday, May 29, in Syracuse. He was 67.
Born in Detroit, Crandall earned a B.A. in English from the University of Illinois, where he graduated summa cum laude and Phi Beta Kappa. According to his obituary, he moved to Syracuse in the 1980s and immersed himself in the region's cultural life, working at the Syracuse Symphony Orchestra, Rome Art and Community Center, Cultural Resources Council (now CNY Arts) and the Everson Museum of Art.
In addition to his work in arts administration, Crandall was an active musician and composer who planned to release his 10th album this summer. His obituary notes, "Leo played with virtually every serious musician in the Syracuse area, some in public venues with formal bands like the Gonstermachers, others on front porches and in the living rooms of those with whom he forged lifelong friendships."
Crandall also "loved collaborating with local filmmakers during the process of creating videos to accompany his own music," according to the obituary. He received many commissions for film scores, dance productions, theater performances and accompaniment for visual arts installations, including one by friend and colleague Owen Shapiro, professor emeritus of film in the Department of Transmedia and co-founder and artistic director of the Syracuse International Film Festival.
"I've known Leo since the days he was director of the Rome Arts Center to our collaboration on 'Basilio the Musical,'" says Shapiro, referring to his 2020 award-winning short film that features a score by Crandall. "It has been several decades. He was a filmmaker, poet, composer, but most of all a truly great human being and a good friend. I will miss him."
In 2007, Crandall began teaching at VPA, where he successfully combined his creative passions with teaching and was a valued colleague.
"Leo was a much beloved professor who shared his love for experimental film, music and graphic novels with our students," says Kara Herold, associate professor of film and coordinator of the film program. "He also frequently collaborated with students as well as former students. In the fall, the film program will plan how we can best show Leo's film work and some of his favorite films in a screening event."
"I had the good fortune of sitting in on Leo's History of the Graphic Novel class when he first taught it," says Gail Hoffman, a part-time assistant professor of transmedia. "At the time I was thinking of creating my own studio class based on short graphic novels and he was kind enough to allow me to audit it. I was amazed at how he could pull in disparate readings, novels, films and philosophy into this class, which made perfect sense and got me thinking in new directions."
Nancy Keefe Rhodes, who is also an instructor of film in the Department of Transmedia and a longtime friend of Crandall's, remembers how his work ethic as a musician and collaborator translated to his success as a teacher. "He would get up at 5:30 or 6 in the morning and start practicing right away," she says. "It is so important that our students get to see an artist who holds creative work in this kind of high esteem and creates a community of artists that is generous rather than cut-throat and cynical. Young people have to see that you can live your life in this way. I think this is one of the things we do best as a film faculty, actually, and Leo was the best."