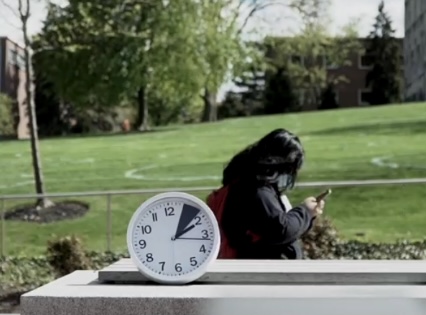 A student team from the College of Visual and Performing Arts' course DES 204: Creative Problem Solving in the School of Design won a silver award in the Creative Conscious Competition, an international platform that allows students to compete by proposing creative solutions that uniquely address an array of problems.
The team, which included VPA students Saachi Jain '22, a film major, and Victoria Klimek '21, a communication and rhetorical studies major, along with former student Amelia Dodson, was part of the Spring 2021 DES 204 class taught by Jody Nyboer, assistant professor of environmental and interior design. The students submitted their project "the Consumption Clock" under the competition's digital & technology discipline with an emphasis on the theme "Conscious Consumption."
According to the project description, "The Consumption Clock is a lifestyle training device in the form of an 'analog' clock that syncs with a user's smart device to track and display the amount of time spent out of the day using media. When installed in the common area of a user's living space, the clock becomes a fixture of accountability in the life of the modern media consumer and encourages appreciation for the value of time."
In addition to the silver award-winning team, two teams of Syracuse University students from the class were shortlisted and commended in the competition: Jessica Phillips '22, Elle Ferreri '22, Marcy Wolfsberg '21 and Daniel Woohyuk Choi '26 for "The Curve," pop-up architectural spaces for student wellness on campus, and Isabella Uribe '23, Noah Hollander '21, Henry Hanlin '21 and Ronit Feldman '24 for the V-Fume, a device proposal for detecting off-gassing from clothing and fabrics.
For the past three years Nyboer has sponsored at least two projects from her DES 204 class to submit to the Creative Conscious competition, and this year marked a new achievement for the students. "A handful of teams have enjoyed making shortlisted status, and fewer were designated as commended projects. However, this is the first time a team has been among the winners," she says.
Creative Conscience is a creative community and global not-for-profit organization that believes that creative thinking and innovation can make positive change.