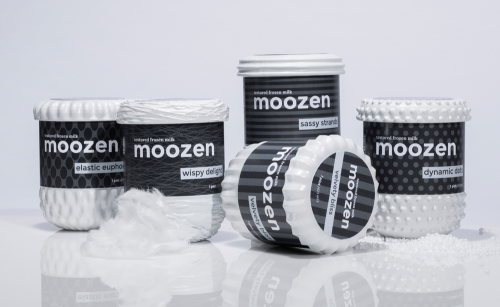 Communications design (CMD) students in the College of Visual and Performing Arts' School of Design were named winners in two major design competitions: Graphic Design USA's (GDUSA) 2020 American Graphic Design Awards and Creative Quarterly's 2020 CQ62 competition.
In Graphic Design USA's (GDUSA) 2020 American Graphic Design Awards, 12 members of CMD's Class of 2020 were named winners: Julia Duarte, Abi Gaudreau, Elese Gaydos, Shijing Li, Zixuan Liu, Nila Nejad, Sarah Noll, Amanda Odell, Michael Paris, Becky Savoia, Audrey Stevens and Jenna Wengle. View their winning work.
GDUSA, an information source for graphic design professionals, selected approximately 700 projects from more than 10,000 entries for the 2020 awards showcase.
In Creative Quarterly's 2020 CQ62 competition, seven of the 18 winners in the graphic design student category were members of the CMD Class of 2020: Jane Firmin, Megan Forbes, Elese Gaydos, Sophie Hessler, Becky Savoia, Nicole Stallings-Blanche and Rachel Werner. From those winners, Stallings-Blanche had her packaging for "Moozen" selected to be included in this year's CQ 100 Best Annual and Exhibit by graphic design judge Jonathan Ford, founding partner and group creative director of Pearlfisher in London.
Twelve of the 26 CQ62 graphic design runners-up were also from CMD: Julia Duarte '20, Blake Duncanson '20, Abi Gaudreau '20, Elese Gaydos '20, Zixuan Liu '20, Nila Nejad '20, Amanda Odell '20, Regan Orzechowski '21, Michael Paris '20, Carly Robins '20, Audrey Stevens '20 and Jenna Wengle.
All winners will be published in the Spring 2021 issue of Creative Quarterly; winners and runners-up will appear in the online gallery. Stallings-Blanche will have her work published in the "100 Best Annual" hardcover book.
Creative Quarterly is an international journal focusing on promoting the best work in graphic design, illustration, photography and fine art.
Communications designers translate ideas and information through a variety of media. The School of Design's communications design program leads to a bachelor of fine arts (B.F.A.) degree. Classes are modeled on professional practice, and students develop the ability to solve real-world problems along with a variety of skills in graphic media.