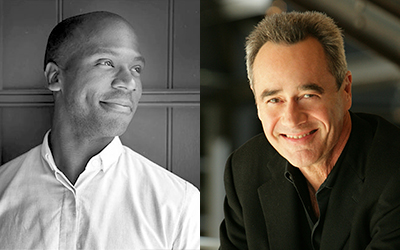 Two College of Visual and Performing Arts (VPA) Council members will be honored at the 2021 Syracuse University Alumni Awards Celebration, which will be held during Orange Central on Friday, Oct. 29.
Keith Cartwright '97 and Jim Morris '77 G'78 will receive the George Arents Award, Syracuse University's highest alumni honor that recognizes alumni who have excelled in their fields.
Cartwright, a communications and design alumnus of VPA's School of Design, is founder, president and chief creative officer of Cartwright, co-founder of the SATURDAY MORNING creative collective and former ECD at 72& Sunny. He has worked at the most creative agencies in the country. He was named by Adweek as one of the 50 top creatives in the industry, by Campaign Magazine as a top 10 Most Influential People in Advertising and was listed to the inaugural Blacklist 100. Cartwright is on the board of the Ad Council and the One Club for Creativity, as well as the VPA Council. He has been recognized by every major awards organization in his field.
Morris a graduate of the S.I. Newhouse School of Public Communications, is president of Pixar Animation Studios. Films under his supervision have included "Ratatouille," "Up," "Toy Story 3," "Cars 2," "Brave," "Monsters University," "Inside Out," "The Good Dinosaur," "Finding Dory," "Cars 3," "Coco," "Incredibles 2," "Toy Story 4," "Onward" and "Soul." He also produced Pixar's "WALL•E," which won the Oscar for Best Animated Feature. Morris previously held key positions over 17 years at Lucasfilm, including president of Lucas Digital Ltd., and its three divisions, Industrial Light & Magic (ILM), Skywalker Sound and Lucasfilm Animation. With his oversight, ILM created the groundbreaking effects in 165 movies, including the Academy Award-winning visual effects in "Jurassic Park," "Death Becomes Her," "Terminator 2" and "Forrest Gump."
The VPA Council supports the dean, faculty, staff, and students in their efforts to carry out the mission and vision of the college.