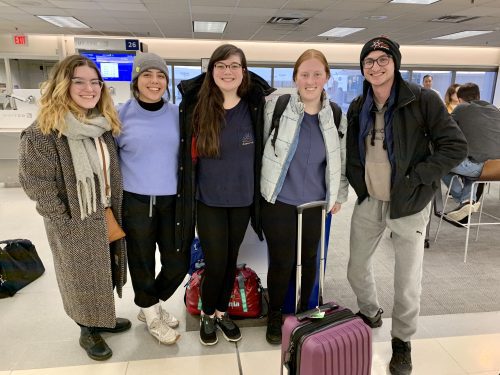 Five seniors from the College of Visual and Performing Arts' Department of Transmedia attended the Sundance Film Festival as part of the Sundance Ignite program.
Sundance Ignite identifies and supports new voices and talent from the next generation of filmmakers and fosters fresh audiences for independent storytelling. As part of the program, students receive the Ignite Ticket Package, an exclusive chance to see the newest films at the Sundance Film Festival.
Film majors Megan Massey, Alexis Miranda, Alex Smithline and Lauren Wilson as well as computer art and animation major Perri Phelps traveled to Sundance in Park City, Utah Jan. 28-Feb. 2 accompanied by Professor Rebecca Xu. They participated in the following events:
An Ignite welcome breakfast, where they met their Ignite peers and attended a discussion with feature filmmakers
An Ignite private screening of Lance Oppenheim's feature film "Some Kind of Heaven," followed by a question-and-answer session with the director and his creative team
An "All About Shorts" panel focused on funding and distribution
A "Language of Editing" panel
"Ignite at Night," a celebration of Sundance Ignite
"Speed Dating with Festival Filmmakers," an opportunity to sit down in small groups for 15-minute intervals with festival filmmakers, ask questions, and share film ideas and aspirations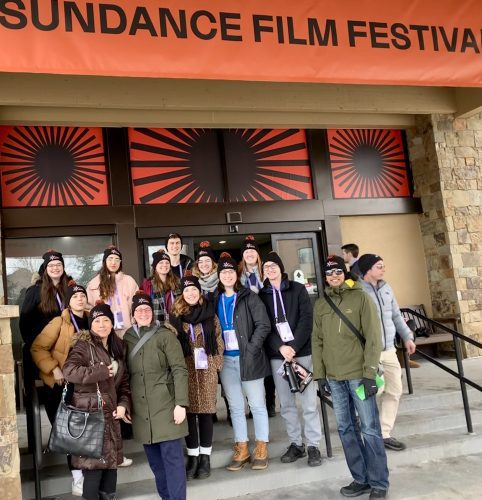 The transmedia students were joined by five students and two faculty members from Syracuse University's S.I. Newhouse School of Public Communications.