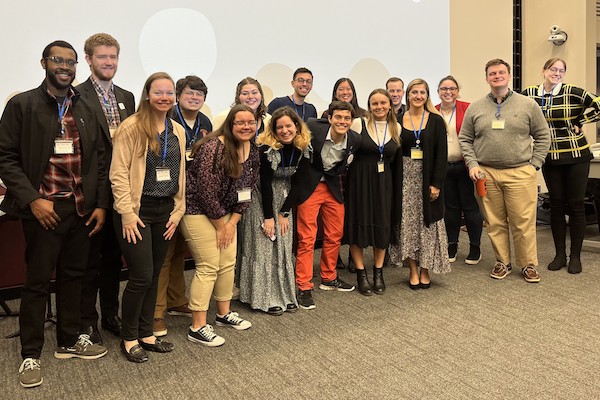 Syracuse University hosted the inaugural New York American Choral Directors Association (NYACDA) Collegiate Conference on Oct. 21 to 22, 2022, with 75 attendees welcomed to the Setnor School of Music in the College of Visual and Performing Arts (VPA).
Co-organized by John F. Warren, professor of conducting—with assistance from Wendy K. Moy, assistant professor of music education in VPA and the School of Education, and choral conducting master's degree student Morgan Beaton—the conference featured several masterclasses; sessions on teaching, graduate school, and job interviewing; and performances by the Syracuse University Singers.
"It was a terrific event, so well attended and so rich in its offerings," says Elisa Macedo Dekaney, VPA associate dean of research, graduate studies, and internationalization and professor of music education.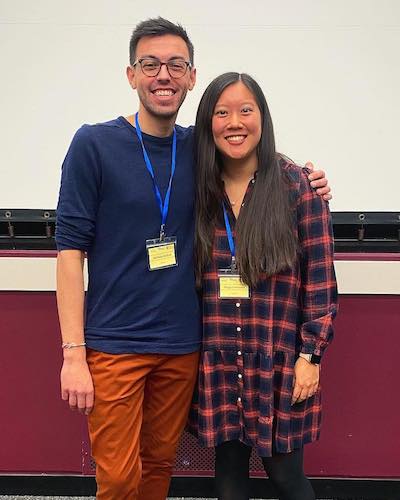 Syracuse University faculty, students, and alumni made contributions across the weekend. Music education alumnus Nicholas Godzak '16, G'19, a music teacher in the Altmar-Parish-Williamstown Central School District, and vocalist Margaret Lenkiewicz '19, G'21, from the Onondaga Central School District, presented the workshop "Congrats—You Got the Job … Now What?! Tips and Tricks for Surviving Your First Year of Teaching."
Music education M.Mus. graduate Christian (CJ) Oliver G'20, a fine arts specialist at CiTiBoces, was a panelist on "The Next Chapter: Applying to Teach and Interviewing" and José (Peppie) Calvar, associate professor, applied music and performance (conducting), along with Morgan Beaton, joined the graduate school advice panel.
"In addition, music education undergraduates Ronny Ditcheck and Henri Youmans were selected for the teaching and rehearsal masterclasses," says Moy. The teaching masterclass featured Moy, while the rehearsal masterclass was led by John Warren. "It was very energizing to be a part of a conference designed especially for the collegiate choral music educator-conductor," Moy adds. "There was an extraordinary openness to learning and dialogue. I am inspired by their ideas for the future of music education."
Other sessions and masterclasses were held on gesture and choral singing (featuring the Syracuse University Singers); Brazilian Choral Music (featuring Elisa Dekaney); and teaching and creativity. At the Collegiate Roundtable on Friday, October 21, attendees were invited to chat with NYACDA President Doreen Fryling about the future of the organization.