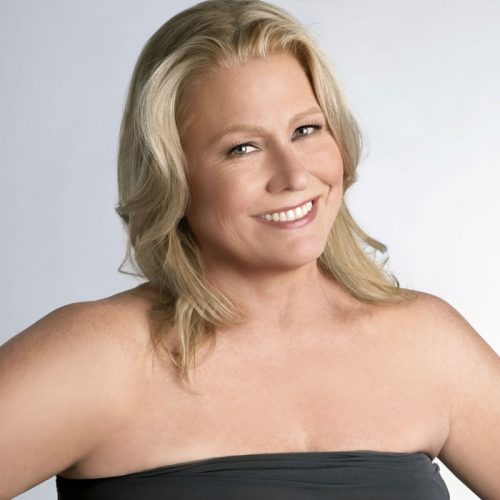 The American Heart Association has announced that supermodel Emme, a 1985 graduate of the College of Visual and Performing Arts' Department of Communication and Rhetorical Studies, will be the keynote speaker at the Go Red for Women Luncheon on Thursday, Oct. 24 at the Oncenter Convention Center in Syracuse. The event starts at 10:30 a.m. with the Festival of Red, and the luncheon program runs from noon to 1:30 p.m.
Emme is one of the world's first plus-size supermodels and was named by O Magazine as the godmother of the full-figured industry. She was the first celebrity advocate to speak before a Congressional subcommittee to increase public awareness of eating and body image disorders.
In 2013, Emme founded Fashion Without Limits. The initiative works with the fashion design program in VPA's School of Design to teach young designers an inclusive fashion education to design clothes for all women sizes 0-24+, celebrating women's bodies including 100 million women above size 12 in the U.S. alone.
Emme is a TV personality/wellness expert, the creative director of her clothing lines, an author of five books, a lead influencer for body positivity and self-esteem and a mom.
"When my father died from a heart attack, it opened my eyes to the fact that heart attacks were the leading cause of death for women, which shocked me," says Emme. "I knew more about breast cancer but very little about heart health, which is why I love talking about, listening and honoring our bodies. They tell us more than we can imagine."
"Emme is a wonderful spokesperson for curvy and confident women out there," said 2019 Go Red for Women Chairwoman Bea Gonzalez. "She will leave you feeling empowered and knowing you can be fit and love yourself, just the way you are, because beauty comes in all shapes and sizes."
Tickets to the Syracuse Go Red for Women Luncheon are available at SyracuseGoRed.heart.org.
Go Red for Women is nationally sponsored by CVS Health and locally sponsored by Life is Why sponsor St. Joseph's Health, along with Syracuse University, Bristol-Myers Squibb, Stickley Audi & Co., Wellcare, Kinney Drugs Foundation, Wegmans and media sponsors 93Q, Eagle Newspapers, Syracuse Woman Magazine and NBC3, CBS5, CW6 and CNYCentral.com.