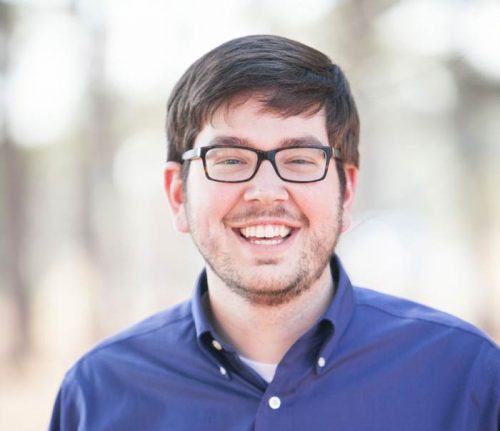 Jonathan Reid, a Texas-based composer, music educator and pianist, has been announced as winner of the 2019 Gregg Smith National Choral Competition Contest in the Rose, Jules R. and Stanford S. Setnor School of Music in Syracuse University's College of Visual and Performing Arts (VPA). The award, which is named for renowned composer and choral conductor Gregg Smith, is given biennially to a composer between the ages of 21 and 35 who has written and submitted a musical composition for a Setnor School choral ensemble.
Reid won for his work "Crossing the Bar," which was selected by a committee of Setnor faculty from numerous compelling entries. Reid's work will be premiered by Setnor Sonority, the Setnor School's gender-inclusive tenor-bass ensemble comprised of students from varied majors and schools/colleges. The premiere will be part of Setnor Sonority's performance at 8 p.m. on Tuesday, April 21, in the Rose and Jules R. Setnor Auditorium, Crouse College. Reid will come to the University for the premiere and rehearse with the choir the day prior to the performance. "Crossing the Bar" has also been recently selected for publication by Carl Fischer Music. Setnor Sonority's recording of that evening's performance will be used by the publisher to help promote the piece.
"Setnor Sonority is thrilled to have the opportunity to do a second world premiere in our inaugural season," says José "Peppie" Calvar, who conducts the ensemble. "We hope to carry on Meastro Smith's legacy by being ambassadors for new choral music much like he was."
Reid, 29, holds degrees from Bob Jones University and Boston University. An accomplished musician and educator, he has taught middle school chorus both in Georgia and Texas. As an arranger and composer, his piano and choral music is featured in the catalogs of Beckenhorst Press, Chorister's Guild, Majesty Music and Soundforth Music. Reid is the winner of the 2011 John Ness Beck Foundation Award and the 2019 Indianapolis Symphonic Choir Commission Competition, and his sacred music has been performed all over the United States. Reid's music has been awarded the JW Pepper "Editor's Choice" award on two separate occasions.
The Setnor School established the Gregg Smith National Choral Composition Contest and the Gregg Smith Graduate Choral Conducting Scholarship in 2008 with the support of an anonymous donor. Smith had a 30-year relationship with Syracuse University; the Gregg Smith Singers and Smith collaborated with University choirs and faculty members on operas, concerts and numerous premieres at Syracuse.
The Setnor School of Music is pleased to host the Gregg Smith National Choral Composition Contest as part of its mission to offer opportunities for the highest level of professional musical development within the context of a broad, humanistic education; to encourage and facilitate the broadest possible range of creative options for students and faculty, recognizing that the Western classical tradition continues to grow and expand, and that it is only one in a world of myriad others; to uphold the school's role and responsibilities as a citizen of the community, and of the larger culture, by serving the community through outreach and education, and by creating and maintaining an inclusive environment in which all can pursue musical interests and develop their gifts; and to offer substantive musical opportunities for non-music majors from all corners of the University.