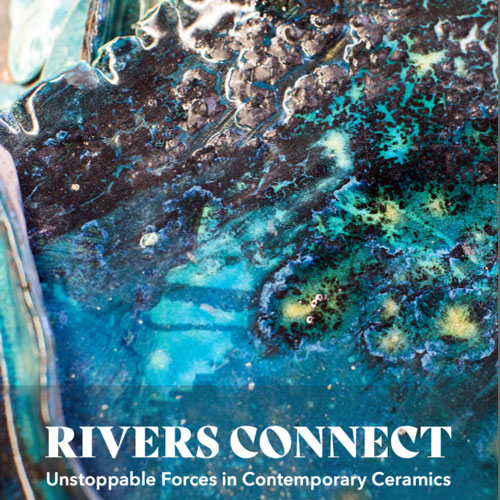 Eight artists who either taught or studied at the College of Visual and Performing Arts' School of Art in the master of fine arts (M.F.A.) program between 1997-2021 were recently featured in the exhibition "Rivers Connect: Unstoppable Forces in Contemporary Ceramics" at Northern Kentucky University (NKU) Art Gallery.
The artists included Jee Eun Lee G'13, David Hiltner G'97, Brooks Oliver (post-baccalaureate), Chelsey Albert G'18, Alberto Veronica G'16, Britt Thorp G'21, Renqian Yang G'14 and Margie Hughto. All are currently teaching or working at universities or clay centers.
The exhibition was curated by Sara Felice, director of Point of Contact Gallery in Syracuse, and David Knight, director of NKU Art Gallery as a venue-based exhibition in conjunction with the National Council on the Education for the Ceramic Arts (NCECA) conference in Cincinnati March 17-21.
The accompanying 72-page catalog features 32 photographs and eight contributing essays by curators and art historians. The catalog is available in a digital and print version.
The theme of the 55th annual NCECA conference was "Rivers, Reflections, Reinventions." Waterways, natural and constructed, are key features of the Cincinnati region. NCECA cited Poet Langston Hughes who captured an essential metaphor for the ways in which water courses through time and territory to mirror the experience of our inner lives.
In the catalog introduction,  Felice writes, "'Rivers Connect: Unstoppable Forces in Contemporary Ceramics'" serves as a metaphor for humanity's relationship to the natural world. Running parallel to the twists and turns of our waterways, the work produced by this group of artists is ever changing, a reflection of their life story. Rivers connect and change course as they flow through time, similar in the way artwork is influenced by our social and cultural exchanges. As the work of the artist is an extension of self, the vast interconnectivity of our rivers is a representation of the multiple directions our lives take."