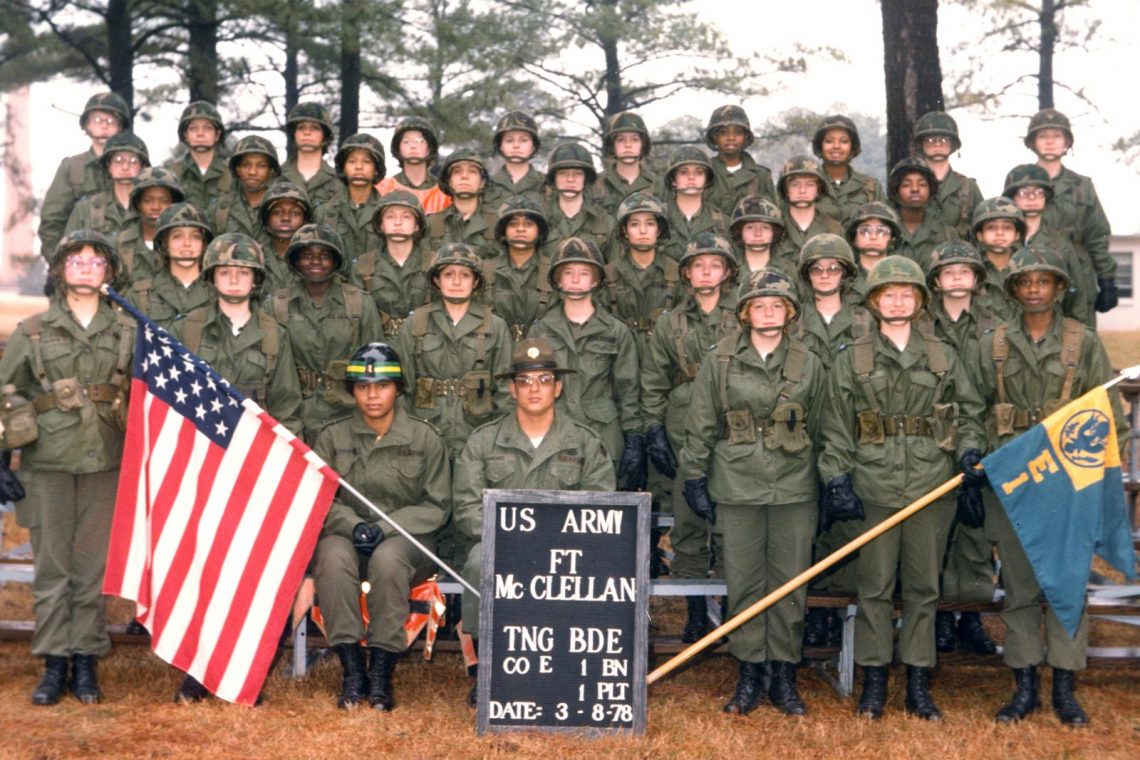 When Associate Professor Marion Dorfer joined the U.S. Army, she did so despite the fact that her mother, father and brother had all served in the U.S. Air Force. "I think I joined the Army instead of the Air Force because I was more of a rebel. I wanted something different," says Dorfer, who has taught surface pattern design, computer-aided pattern design and computer design classes in the College of Visual and Performing Arts' School of Design since 1992.
Dorfer served four years in the Army, earning a certificate of photography while at Ft. Lowry Air Force Base in Denver, Colorado, and a certificate of training in illustration and graphic design while assigned to the 6th PSYOPs (Psychological Warfare Operations) Battalion in Ft. Bragg, North Carolina. There, Dorfer worked in a mobile printing unit, supporting the Army Special Forces and 82nd Airborne Divisions during field exercises. "I was doing graphic work on pamphlets, leaflets, certificates and good conduct passes during field exercises. It was fun," she says.
Dorfer loved "shooting the bazooka, throwing grenades and completing obstacle courses during basic training," but her most memorable assignment came in the early 1980s in Ft. Indiantown Gap, Pennsylvania, when the area was being used as a center to house Cuban refugees. "It was the saddest thing, seeing these people get off the buses with only the clothes on their backs," Dorfer says.
Her assignment was to provide photography and graphic support for the Cuban refugee newspaper La Libertad, the Red Cross, and the local safety awareness office, for which she was awarded an Army Achievement Medal. She and her team subsequently trained the refugees on how to run the paper, which was used to communicate with the area's Cuban population. Her work on behalf of the Cuban Alien Support Program earned her a Department of the Army Certificate of Achievement.
Dorfer received a Good Conduct Medal and numerous letters of commendation for her service. She was honorably discharged from the Army after serving four years with the goal of pursuing an education in a creative field. She earned an A.A.S. with high honors from Onondaga Community College, and then a B.F.A. and an M.F.A. in surface pattern design from Syracuse University.
Dorfer joined the Veterans Affinity Group when it was established in 2014, and she's been impressed with the University's commitment to veterans. "The focus on veterans is needed, and the way the University has built that is amazing. I think a lot of veterans feel lost sometimes when they come out of the service, and the fact that we have all these programs for veterans, the National Veterans Resource Center and the VA hospital nearby is great," she says.
Dorfer sees Veterans Day as a way to reflect on and remember those who have made the ultimate sacrifice for their country. "I'm glad that it's recognized, because there was a period there where there was nothing for the military," she says. "It's important to remember who sacrificed for the opportunities and freedom that we have."