William DiCosimo
Setnor School of Music
Associate Professor, Music Industry & Technologies
Program Coordinator, Music Industry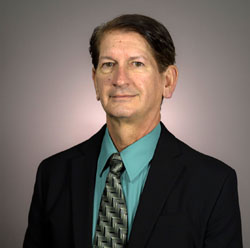 119D Crouse College
Syracuse, NY 13244-1010
Bill DiCosimo has extensive experience in the music industry as a performing and session musician, songwriter, clinician, panelist/presenter, researcher, and published composer (UNC Jazz Press, Oregon Catholic Press). DiCosimo owns and operates his own publishing company and recording studio, DiCosmic Music. He has more than 12 years of college-level instruction in music business, academic advising, course design, implementation, and mentoring. He is a member of ASCAP, MEIEA, CMS, and AFM Local 78.
DiCosimo has presented research at the Music and Entertainment Industry Educators Association (MEIEA) summit in Los Angeles, the United States Association for Small Business and Entrepreneurship (USASBE) National Conference in San Francisco, and at the Athens Institute for Education and Research, (Atiner) in Athens, Greece. As a contemporary jazz and Latin rock keyboard player, he has performed in Brazil; Japan; New York City; Los Angeles; Detroit; Tampa, Florida; Des Moines, Iowa; San Francisco; Washington, D.C.; and around upstate New York and the northeastern United States. He has performed with, worked as a session musician, opened for, or collaborated with Emedin Rivera, Dave Valentin, Spyro Gyra, Average White Band, Charo, Tom Scott, Darmon Meader, Howie Mandel, Ernie Watts, Lew Soloff, Mikanic, David "Fathead" Newman, Boston Brass, the Braxton Brothers, Katisse Buckingham, Jimmy Haslip, Eric Marienthal, Tish Oney, Mary Fahl, and Mark Doyle.
DiCosimo has garnered several Syracuse Area Music Awards for his work with Dave Hanlon's Cookbook, Grupo Pagan, Swing Central, and the Bill DiCosimo Quartet and is a 2004-05 and 2006-07 ASCAPlus Award Recipient.
DiCosimo is program coordinator of the B.M. music industry degree program and directs and coordinates the music industry minor program. His departmental work includes creating relationships and partnering with industry businesses to provide internship opportunities for students. He also works as a mentor and instructor at area high schools.
Education
M.M., University of Southern California
Expertise
Arranging, film scoring, jazz Studies, jingle writing, music business and research, pedagogy, record production, and songwriting