Todd Herreman
Setnor School of Music
Associate Teaching Professor, Music Industry & Technologies
Director, Audio Arts
Graduate Coordinator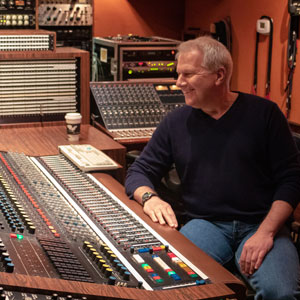 124 Crouse College
Syracuse, NY 13244-1010
Todd Herreman is a 20-year Los Angeles-based music industry veteran as producer, songwriter, composer, engineer, and session musician, garnering multiple gold and platinum records. He recorded and toured for a year with Prince. His credit and client list also includes Michael Jackson, Brian Wilson, Jeff Beck, Jodie Watley, and Adam Ant. In addition, he has scored music for feature film, television, and commercials.
From 2004 to 2017, Herreman turned his attention to teaching audio engineering, producing, MIDI, and music business at Southern Illinois University Carbondale. He holds a degree in music and philosophy from Indiana University and a master of legal studies from SIU School of Law, with a concentration in intellectual property. He is an alumnus of the prestigious Leadership Music program in Nashville.
Herreman was the faculty advisor to Digital Dog Records, the student-run record label; Musicians United Southern Illinois Carbondale, the musicians' networking/jamming group; and the Audio Engineering Society. He has organized and hosted industry panels, recording and mixing workshops, and songwriting/producing seminars. Guests have included top engineers, producers, hit songwriters, and industry executives. Herreman was also the faculty audio supervisor for Studio A, the student-produced, multi-camera music video production that is broadcast on WSIU-TV. He started the summer internship program in Nashville for the College of Mass Communication and Media Arts at SIU.
Herreman's research interests focus on copyright issues that impact the music and entertainment industry, and his presentations and publications include topics on licensing and technology, sampling, and fair use.
Industry affiliations include the Recording Academy (NARAS), voting member; ASCAP, writer and publisher; and Audio Engineering Society (AES), professional member.
Education
B.S., Indiana University
Master of Legal Studies, Southern Illinois University