Theresa Chen
Setnor School of Music
Instructor, Applied Music and Performance (Jazz Piano)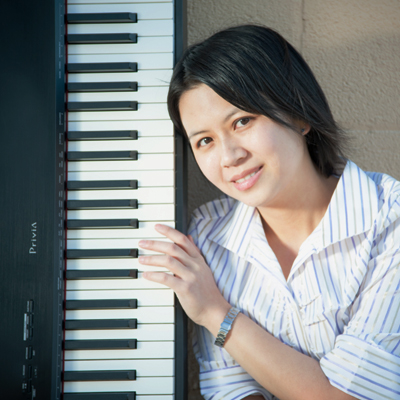 301 Crouse College
Syracuse, NY 13244-1010
Theresa Chen, D. M. A., is a well-rounded musician. She is a pianist, improviser, accompanist, composer, arranger, educator, and a Catholic music minister.
Chen now serves as an adjunct instructor of applied jazz piano lessons and jazz history course at the Syracuse University. Chen has previously taught functional jazz piano courses and secondary jazz piano lessons from 2013-2018 when she was assigned as a teaching assistant at the Eastman School of Music. She also has given a diverse series of clinics, lectures, and master classes around Taiwan and America.
At the piano, Chen's delicate, bright, and lyrical creativity impresses the heart of any listener. Her understanding of various styles allows her to perform in many different musical settings. Her compositions have raised awareness of Taiwanese culture. And her deep-felt passion in jazz piano performance today has attracted the attention and praise from audiences in the United States and around the world.
Chen has collaborated with many famous jazz artists such as Bill Dobbins, Dave Rivello, Rich Thompson, Charles Pillow, Gary Smulyan, Clay Jenkins, Dave Liebmann, and Scott Wendholt. She also played at the Rochester International Jazz Festival, Downstairs Cabaret Theatre, WGMC-Jazz90.1 radio station, and many other prominent jazz venues in Taiwan.
Born in Buffalo, New York, and raised in Chiayi, Taiwan, Chen graduated from college of music at National Taiwan Normal University (NTNU) in 2013. She won 3rd place in piano concerto competition at the college of music and several awards in the National Student Music Competition. Chen was also involved in film scoring during her studies in the digital visual and sound arts certificate program. Her recent musical work "A Moment of Love" was released in August 2013. She was accepted as an exchange student at the University of North Texas for the fall semester of 2012, where she took a double major in classical and jazz piano performance. Under the instruction of Prof. Gustavo Romero and Mr. Sergio Pamies, Chen excelled at her time in UNT. In Spring 2013, she successfully entered the master's program at the Eastman School Music. Under the instruction of the legendary pianist Harold Danko, she began her professional career as a jazz musician. In July 2018, Chen received a doctor of musical arts degree in jazz piano performance at Eastman School of Music with a minor in music theory and an advanced certificate in the art of improvisation.
As the first Taiwanese student studying in grad school for jazz studies in the history of Eastman, Chen never stops promoting the music of her own culture. In November 2013, she was involved in the composer's project held by the ethnomusicology department at NTNU. Her arrangement on two Taiwanese folk songs, "Latin Ferry" and "Fantasy on a Theme of Flowers in the Rainy Night," were recorded on an album The Sound of Antique, performed by Taiwanese flutist Dr. Chia-Fen Tsai and published. In the album, she was the only arranger who was not a composition major. Also, Chen's recent works, "The Song of Taibalang" and her arrangement of Mary Lou Williams' "Lonely Moments" won the Outstanding Composition and Outstanding Arrangement–Small Ensemble at Graduate College category of the 2017-18 Downbeat Student Music Awards.
Chen is devoted to a series of performance projects on women jazz pianists, classical music improvisation, and free improvisation. Invited by the Jazz Education Network (JEN) in January 2016, she presented her research about Marian McPartland's solo piano style in the format of a poster session. Gathering the information around the jazz field, Chen aims at helping Taiwan build a complete and professional jazz educational system. She's also exploring many different possibilities of sounds through musical experiments and meeting more jazz musicians from different cultural backgrounds. She believes jazz is a free art form which can include multiple cultures within its music. Through her music, Chen hopes to bring love, peace, harmony, and warmness to audiences in the present and in the future.
Education
D.M.A., Eastman School of Music