Theresa Chen
Setnor School of Music
Instructor, Applied Music and Performance (Jazz Piano)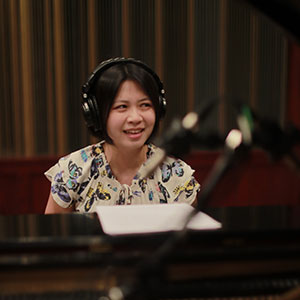 301 Crouse College
Syracuse, NY 13244-1010
Theresa Chen, D.M.A., is an active, well-rounded musician. She is an improvising keyboardist, accompanist, composer/arranger, pedagogue, and Catholic music minister.
Theresa Chen, D.M.A., is an active, well-rounded musician. She is an improvising keyboardist, accompanist, composer/arranger, pedagogue, and Catholic music minister.
Dr. Chen is an instructor of applied jazz piano, songwriting, history of jazz, and director/co-director of jazz/funk combo and Orange Juice jazz combo at Syracuse University. She is the first Taiwanese-American who teaches jazz at the college of music in the United States. She has previously taught Functional Jazz Piano courses and secondary jazz piano lessons from 2013-2018 when she was a teaching assistant at the Eastman School of Music. She also has given a diverse series of clinics, lectures, and masterclasses around Taiwan and America. Her first jazz album, Whispering to God, was released digitally in December 2021 and physically in July 2022. The album's title track was nominated in the Best Jazz Tune category of the 2022 Golden Indie Music Awards in Taiwan.  
Dr. Chen has shared the stage with famous jazz artists such as Gary Smulyan, Ingrid Jensen, Dave Liebmann, Bria Skonberg, Boris Kozlov, Victor Provost, Allison Miller, and Scott Wendholt. She also performed at the Rochester International Jazz Festival, WGMC-Jazz90.1 Radio Station, Civic Morning Musicals, Syracuse Opera, WCNY (Symphoria), and many other prominent jazz venues in Taiwan and Central New York.
Dr. Chen never stops promoting the music of her own culture. In November 2013, she was involved in the composer's project held by the Ethnomusicology Department at NTNU. Her two arrangements of two Taiwanese folk songs, "Latin Ferry" and "Fantasy on a Theme of Flowers in the Rainy Night", were recorded on an album "The Sound of Antique," performed by Taiwanese flutist Dr. Chia-Fen Tsai and published. Her other two works, "The Song of Taibalang" and her arrangement of Mary Lou Williams' "Lonely Moments," won the Outstanding Composition and Outstanding Arrangement--Small Ensemble at Graduate College category of the 2017-18 Downbeat Student Music Awards. 
Dr. Chen is devoted to a series of performance projects on women jazz instrumentalists, historical improvisations, jazz in Asia, pedagogical methods of jazz/commercial music theory/history, and jazz music applied in Christian liturgies. At the beginning of 2023, she published her two papers on teaching jazz standards writing and stride piano playing in the latest issue of Jazz Education in Research and Practice. Invited by the National Taiwan Normal University(NTNU) and the Department of Teacher and Art Education of the Ministry of Education, she created jazz/commercial music teaching materials for high school students, which are scheduled to be published digitally by the end of February of the same year.
Born in Buffalo, New York, and raised in Chiayi, Taiwan, Dr. Chen received her Bachelor of Fine Arts degree in classical piano at National Taiwan Normal University in 2013 with a Certificate in Digital Visual and Sound Arts and minors in flute and voice. In 2015 and 2018, she earned Master of Music and Doctor of Musical Arts degrees in jazz piano performance at Eastman School Music, with a minor in Music Theory and a Certificate of  Advanced Achievement in the Art of Improvisation. She has studied jazz and historical improvisations with the legendary jazz pianist Harold Danko, Gary Versace, Bill Dobbins, Dr. Dariusz Terefenko, Vincent Lenti, and organist/harpsichordist Edoardo Bellotti.
Dr. Chen is also passionate about organ and sacred music. So far, she has served at many Catholic churches in Taiwan and America, including St John's Cathedral in Chiayi City, Sacred Heart Church at Guting, Immaculate Conception Church at Fu-Ren University, St. Paul's Church at Xinchuang, and St Anne Church in Rochester, New York. She now serves as the music director and organist at the Most Holy Rosary Church in Syracuse, New York, and the sub-dean of the American Guild of Organists-Syracuse Chapter. She has hosted many workshops in organ improvisations, hymn accompanying, and transcribing. 
Thanks to the pandemic, Dr. Chen enjoys other interests besides art, such as American and Taiwanese cultures, meteorology, ornithology, psychology, feminism, French, herpetology, interpersonal relationship and communications, geology, geography, and geometry
Education
D.M.A and M.M., Jazz Piano Performance, Eastman School of Music
B.F.A, Classical Piano Performance, National Taiwan Normal University, Taipei, Taiwan
Expertise
Jazz/classical piano, jazz composing/arranging, historical improvisation (classical, baroque, stride and sacred music), jazz in Asia, history of instrumental women in jazz