Theresa Chen
Setnor School of Music
Instructor, Applied Music and Performance (Jazz Piano)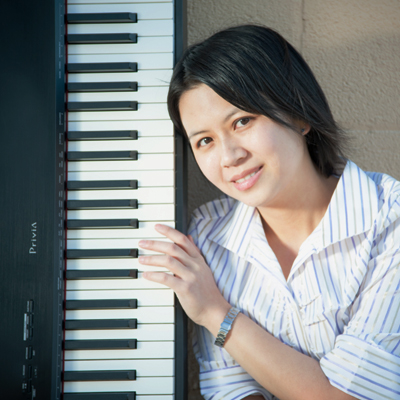 301 Crouse College
Syracuse, NY 13244-1010
Theresa Chen, D.M.A., is an active, well-rounded musician. She is an improvising keyboardist, accompanist, composer/arranger, pedagogue, and Catholic music minister.
Dr. Chen is an instructor of applied jazz piano, jazz/funk combo, songwriting, and history of jazz course at Syracuse University. She is the first Taiwanese-American who teaches jazz at the college of music in the United States. She has previously taught Functional Jazz Piano courses and secondary jazz piano lessons from 2013-2018 when she was assigned as a teaching assistant at the Eastman School of Music. She also has given a diverse series of clinics, lectures, and masterclasses around Taiwan and America. She's one of the founding members of classical and jazz groups, "The Dai Wan Za Mo Project," and "Pas de Deux," teamed up with pipe organist Dr. Jonathan Embry. She is planning to record her first debut album after the pandemic and prepare her future book project on the stylistic evolution of Marian McPartland's piano playing, as well as research on sacred jazz (including jazz masses) and its placement in Catholic liturgy.
Dr. Chen has shared the stage with famous jazz artists such as Gary Smulyan, Ingrid Jensen, Dave Liebmann, Bria Skonberg, Boris Kozlov, Victor Provost, and Scott Wendholt. She also performed at the Rochester International Jazz Festival, WGMC-Jazz90.1 Radio Station and many other prominent jazz venues in Taiwan.
Dr. Chen never stops promoting the music of her own culture. In November 2013, she was involved in the composer's project held by the Ethnomusicology Department at NTNU. Her two arrangements of two Taiwanese folk songs, "Latin Ferry" and "Fantasy on a Theme of Flowers in the Rainy Night", were recorded on an album "The Sound of Antique," performed by Taiwanese flutist Dr. Chia-Fen Tsai and published. Her other two works, "The Song of Taibalang" and her arrangement of Mary Lou Williams' "Lonely Moments," won the Outstanding Composition and Outstanding Arrangement--Small Ensemble at Graduate College category of the 2017-18 Downbeat Student Music Awards.
Dr. Chen is devoted to a series of performance projects on women jazz instrumentalists, historical improvisations, jazz in Asia, pedagogical methods of jazz theory/history, and performance practice of the stride piano. Invited by the Jazz Education Network (JEN) in January 2016, she presented her research about Marian McPartland's solo piano style in the format of a poster session. In January 2020, she was invited again to the same conference in New Orleans to present McPartland's solo free improvisations of "Portraits."
Born in Buffalo, New York, and raised in Chiayi, Taiwan, Dr. Chen received her Bachelor of Fine Arts degree in classical piano at National Taiwan Normal University (NTNU) in 2013 with the Certificate of Digital Visual and Sound Arts and minors in flute and voice. In 2015 and 2018, she earned Master of Music and Doctor of Musical Arts degrees in jazz piano performance at Eastman School Music, with a minor in Music Theory and an Advanced Certificate in the Art of Improvisation. She has studied jazz and historical improvisations with the legendary jazz pianist Harold Danko, Gary Versace, Bill Dobbins, Dr. Dariusz Terefenko, Vincent Lenti, and organist/harpsichordist Edoardo Bellotti.
In the midst of COVID-19, Dr. Chen has participated many online collaborations and presentations. In July 2020, she hosted two online in-depth panel discussions for Taiwanese jazz educators on teaching jazz history and jazz education in Taiwan and in the US. She was also invited by Florida Southern College and East Tennesse State University to give lectures on the history of women in jazz and basic jazz tune writing.
Thanks to the pandemic, Dr. Chen enjoys other interests besides art such as meteorology, ornithology, psychology, feminism, French, herpetology, interpersonal relationship and communications, geology, geography, and geometry.
Education
D.M.A & M.M., Jazz Piano Performance, Eastman School of Music
B.F.A, Classical Piano Performance, National Taiwan Normal University, Taipei, Taiwan
Expertise
Jazz/classical piano, jazz composing/arranging, historical improvisation (classical, baroque, stride and sacred music), jazz in Asia, history of instrumental women in jazz