Sarah Saulson
School of Design
Instructor, Fiber Arts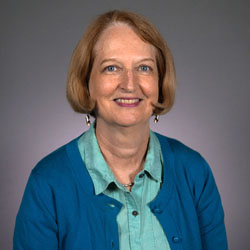 sfsaulso@syr.edu
014A Comstock Art Facility
1075 Comstock Avenue
Syracuse, NY 13202
Sarah Saulson started weaving as a child in Ann Arbor, Michigan, and has pursued fiber arts as her full-time profession for more than two decades. For many years, she sold her hand-woven fashion accessories at juried craft shows, including ACC shows and retail craft shows in the northeast and mid-Atlantic.
She attended art school at Syracuse University and received an undergraduate degree in anthropology from Wellesley College. This has fueled her interest in ethnic textiles and processes and has resulted in the privilege of working with and supporting contemporary weavers in Ghana and Guatemala.
Teaching in a variety of contexts has become an important part of her weaving life. In addition to teaching weaving at SU, she works with adult learners throughout in many parts of the country and children in local schools. Her students of all ages continue to energize and educate her.
Education