Ross Avery Baum
Department of Drama
Instructor, Tepper Semester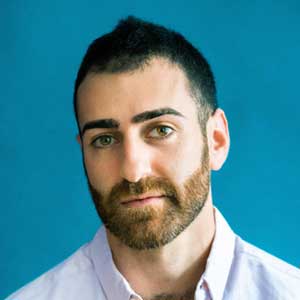 Syracuse University's Fisher Center
136 Madison Avenue, 2nd Floor
New York NY 10016
Ross Baum is a composer, vocalist, music director, music arranger + producer, and vocal coach + teacher whose work has been seen on stages and screens across the country including Lincoln Center, New York City Center, the Kennedy Center, Nickelodeon, Sesame Street, Billboard, Playbill, and E! Network.
He received the 2018 Richard Rodgers Award for his original musical Gun & Powder (book & lyrics by Angelica Chéri), which recently had its world premiere production at DC's Tony-winning Signature Theatre, directed by Robert O'Hara. Other musical scores include: Escapeland (in development, book & lyrics by Charlie Oh), Crowndation: I Will Not Lie To David (National Black Theatre), Anne Frank: My Secret Life and A Letter To Auntie Rosa (Diverging Elements Theatre Company).
As founder and music director of the vocal group RANGE, he has arranged and produced content for a YouTube channel totaling 30 million views, including their viral hit Hamilton [in 7 minutes] and studio album RANGE volume one. He has also worked as a vocal director, creative consultant, and arranger/orchestrator for corporate entertainment companies including Walt Disney Imagineering, Celebrity Cruises, and RWS Entertainment Group. Ross holds an MFA in Musical Theatre Writing from NYU, BFA in Musical Theater from Syracuse University, and is a member of the BMI Lehman Engel Musical Theatre Workshop.
Education
M.F.A., New York University - Tisch School of the Arts
B.F.A., Syracuse University
Expertise
Musical theater, voice