Rodney Hudson
Department of Drama
Assistant Professor, Musical Theater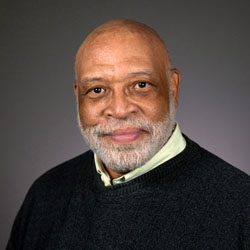 Syracuse Stage/Department of Drama Theater Complex
820 East Genesee Street
Syracuse, NY 13210-1508
A professional actor for more than 25 years, Rodney Scott Hudson has performed in the major regional theaters in the United States, including as a company member with the famed American Repertory Theatre, Harvard University.
As a soloist, singing the Broadway repertoire, he has sung with major orchestras, including the Minnesota Orchestra, St. Louis Symphony, and the Houston Symphony.
Hudson is a member of the Actors' Equity Association.
Education
M.A., University of South Dakota
Member, Actors' Equity Association
Expertise
Dramatic scene study, and musical theater performance