Marion Dorfer
School of Design
Associate Professor, Design Studies
First Year Experience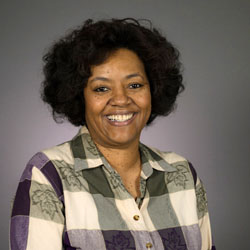 7th floor, The Nancy Cantor Warehouse
350 West Fayette Street
Syracuse, NY 13202
Marion Dorfer joined the School of Design in 1992 after completing her M.F.A. in surface pattern design. She created and taught the first computer course in the department of design, introduction to computer-aided pattern design. Dorfer also created and taught analysis of color for production, creative media and design techniques and an advanced computer-aided pattern design course utilizing proprietary software she attained via industry/educational grants from Ned Graphics, Abercrombie & Fitch and Lectra. She currently teaches introductory software classes to the first year experience design students in addition to developing a surface pattern design minor with industry alumni affiliations.
Dorfer served four years in the U.S. Army, earning a Certificate of Photography at Ft. Lowry Air Force Base, CO. and a certificate of training in illustration/graphic design while assigned to the 6th Psyops Battalion, Ft Bragg, NC. Dorfer and cohorts operated a mobile printing unit, supporting the Special Forces and 82nd Airborne during field exercises. She earned an A.A.S. from Onondaga Community College studying advertising/illustration, finally majoring in surface pattern design. She then earned her B.F.A. in surface pattern design from Syracuse University.
After earning her B.F.A., Dorfer was the display advertising art director for the Syracuse New Times and later the graphic art director for Commercial Art Supply. It was then that she began teaching color theory, advertising design, typography and desktop publishing as an adjunct in the graphic arts program at Onondaga Community College.
Dorfer continued to teach while working as the production art director for a screen printing company, Image Promoters, when she left to pursue her M.F.A. While working and teaching, Dorfer also managed her freelance business, MYDesigns.
Represented by John Sacks, of Jane-Albert Studios Inc., NY, he obtained commissions and procured sales of her speculative work in-house and at U.S. and European trade shows. Dorfer has over 30 years' experience as a professional designer for decorative printed and woven textiles, wall covering, glass, ceramics and paper products with a client list that includes F. Schumacher & Co. NY, Kohler Inc. WI, and Himatsingka Seide, India. Dorfer's work has been featured in industry publications such as Home Textiles Today, "Spirit of the Garden", Valdese Weavers; House & Garden, Interior Design and Kitchen and Bath, "Garden Bandana", Kohler Inc.
Education
M.F.A., Syracuse University
F.A., Syracuse University
US Army - Certificate of Photography and Certificate of Training, Army Newspaper Seminar, Illustration and Graphic Design
Organizations
Graphics Artist's Guild - Member since 1993
LinkedIn Professional Surface Pattern Designers Group - Manager as of 2008
Expertise
Adobe CC © Graphic Software

 MYDesigns, 30 + Years' experience in Surface Pattern Design, Hand and CAD