Marilyn Koch
School of Art
Instructor, Studio Arts (Jewelry and Metalsmithing)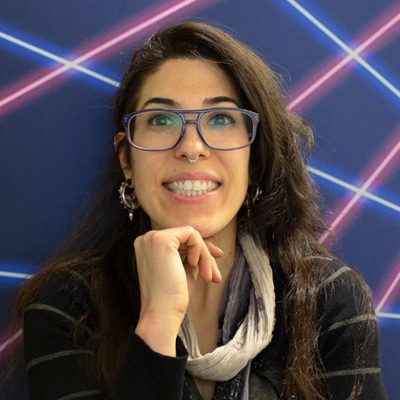 121 Comstock Art Facility
Syracuse, NY 13244-5050
Marilyn's work requires synthetic and organic body parts as a way of illustrating our relationship with the human body as a collective.
These body parts such as teeth, finger nails, or hair also demonstrate that we are the result of similarly assembled micro-
components.  She works with multiples as a way to talk about the sum of our parts, and as of late she's been focusing of synthetic teeth.  "I've been thinking a lot about teeth and how they are hidden behind lips or more recently a mask."  They represent the anonymity and power we have with our voice and how the collective voice seems to have developed into its own autonomous entity.  We exist in a macro or microcosm depending on the scale of our chosen perspective. Marilyn Koch is the Program Coordinator for the Jewelry and Metalsmithing Program, JAM Club Faculty Advisor, and an Executive Committee Member of Adjuncts United.  She has been teaching Introduction through advanced metalworking at SU since 2016. As a jeweler and metalsmith, she is an internationally exhibiting artist whose work has been shown in England, Germany, and Portugal and has been most recently published in Jewelry and Metals Survey, 2018.
Education
M.F.A., Syracuse University
B.A., Sacramento State University (Small Metals & Jewelry)
B.A., Sacramento State University (Applied Mathematics)
Expertise
Jewelry + Metalsmithing
Course Taught
Introduction to Jewelry and Metalsmithing

Intermediate Metals

Experimental Materials

Surface Techniques

Jewelry Production

Stones + Stonesetting 

History of Jewelry and Metalsmithing

Casting