Maria Marrero
Department of Drama
Professor, Theater Design and Technology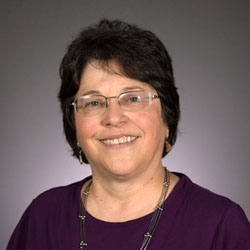 Syracuse Stage/Department of Drama Theater Complex
820 East Genesee Street
Syracuse, NY 13210-1508
Maria Marrero has designed costumes for productions at leading professional and regional theaters throughout the United States, including the Apollo Theatre in Chicago, Actors Theatre of Louisville, the Berkshire Theatre Festival, Burt Reynold's Jupiter Theatre, Delaware Theatre Company, ESIPA "the Egg" in Albany, Playmakers Repertory Theatre, Florida Studio Theatre, Indiana Repertory Theatre, Rochester's GEVA Theatre and Buffalo Studio Arena, the Vineyard Theatre, and the Broque Opera Company in New York City.
She has designed regional and national tours, including the premiere production of Handy Dandy, written by William Gibson and directed by Arthur Storch, and Of Mice and Men, directed by Arthur Storch. She was a founding member and resident costumer/designer of the second Florida State Regional Theatre, Players State Theatre at Miami's Coconut Grove Playhouse. Her designs for A Flea in Her Ear, directed by Susan Lawless, won the Best Costume Design award from the Miami Critics Circle. Her designs for Life with Father and for A Christmas Carol at Coconut Grove were nominated for Carbonell awards in the category of Best Costume Design.
Marrero was the resident costumer/designer at Syracuse Stage for 12 years and was an adjunct faculty member of the drama department during that time. She has designed costumes for 36 productions at Syracuse Stage, most recently Putting it Together, starring Tony winners Lillias White and Chuck Cooper, and The Fantasticks, directed by Peter Amster.
As costumer at the Berkshire Theatre Festival and Syracuse Stage, Marrero has supervised the production of designs by Ann Roth, David Woolard, Judy Dearing, Jennifer Von Mayrhauser, Nanzi Adzima, David Murin, David Toser, Linda Fisher, Lowell Dettweiler, Greg Fisher, and many others. She also was a draper at Eaves-Brooks Costume Company in New York City and has worked on film and television projects for PBS and independent companies.
Marrero has been on the faculty at Florida Atlantic University in Boca Raton, Florida International University in Miami, Broward Community College in Fort Lauderdale, and Colgate University in Hamilton, New York.
Marrero is a member of United Scenic Artists, Local 829.
Education
M.F.A., Rutgers University, Mason Gross School of Creative and Performing Arts
Expertise
Costume design, set design, and stage makeup