Marcelle Haddix
Department of Communication and Rhetorical Studies
Affiliated Faculty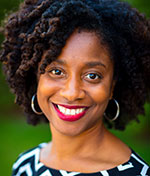 Marcelle Haddix serves as associate provost for strategic initiatives. In this capacity, she partners with Vice Chancellor, Provost and Chief Academic Officer Gretchen Ritter and others to connect Academic Affairs with the campus and surrounding community. She is the primary liaison to the University Senate and oversees the First Year Seminar and University-wide arts and humanities affiliates and programs.
Haddix is a Distinguished Dean's Professor of Literacy, Race and Justice in the Syracuse University School of Education. She facilitates literacy programs for adolescent and adult communities in Syracuse, including the Writing Our Lives project for urban youth writers and a Black women's literary club and free library project.
She is an affiliated faculty member in the Departments of African American Studies, Composition and Cultural Studies, Cultural Foundations of Education, and Women's and Gender Studies.  She holds a courtesy faculty appointment in the Department of Nutrition and Food Studies. 
Haddix's work is featured in Research in the Teaching of English, English Education, Linguistics and Education, and Journal of Adolescent and Adult Literacy and in her book, Cultivating Racial and Linguistic Diversity in Literacy Teacher Education: Teachers Like Me, which received the 2018 Outstanding Book Award from the American Association of Colleges for Teacher Education.
Education
Ph.D. Education, Boston College, 2008
M.Ed. Adult Education, Cardinal Stritch University, 1998
B.S. Secondary Education/English, Drake University, 1996
Research & Scholarship
Marcelle's scholarly interests center on the experiences of students of color in literacy and English teaching and teacher education and the importance of centering Blackness in educational practices and spaces.
Honors
2018 Outstanding Book Award from the American Association of Colleges for Teacher Education.
American Educational Research Association Division K Early Career Award
National Council of Teachers of English Promising Researcher Award
National Council of Teachers of English Janet Emig Award
President of the Literacy Research Association