Logan Ryland Dandridge
Department of Film and Media Arts
Assistant Professor, Film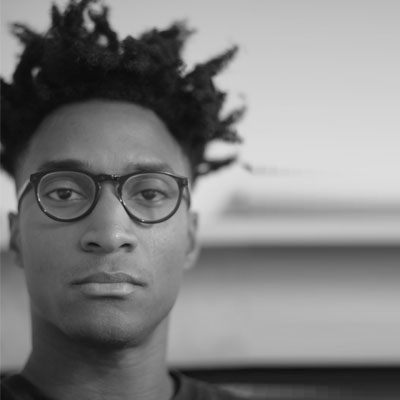 102 Shaffer Art Building
Syracuse, NY 13244-1210
Logan Ryland Dandridge (he/him) will serve as a tenure-track assistant professor of film in the College of Visual and Performing Arts' Department of Film and Media Arts beginning in Fall 2021.
He joined the department in Fall 2020, serving as an assistant teaching professor of film. Dandridge teaches classes in film production, including experimental and documentary modes.
Prior to joining Syracuse University, Dandridge was an assistant professor of art and art history at DePauw University from 2018-20, where he taught courses in video and digital art. Dandridge is a moving image artist whose films interpret the nuances of African American culture through the poetics and aesthetics of experimental cinema. His research interrogates various histories through a combination of assemblage, superimposition, and multi-channel orientation. As a filmmaker, cultural referencing, nostalgia, and religion are themes explored in his work.
He has exhibited at venues throughout North America and Europe, including group exhibitions and screenings at the B Complex Gallery in Atlanta; Second Street Gallery in Charlottesville, Virginia; Modern Art Oxford in England, Miami University in Ohio, Cerritos College in Los Angeles, and the Virginia Museum of Fine Arts in Richmond.
Subsequent artistic projects have been supported by the Peel Research Award from St. Edmund Hall in 2018. In recent years his projects have been supported by the Ox-Bow School of Art, Red Bull Arts, 1708 Gallery, Anderson Ranch Arts Center, and the Museum of Contemporary Art Detroit. This year, he will be exhibiting a new film at the Barcelona Contemporary in Spain.
Dandridge earned an M.F.A. (with distinction) in 2018 from the University of Oxford's Ruskin School of Art. In 2016 he received a B.A. in film and media studies from the University of Virginia.
Education
M.F.A. University of Oxford
B.A. University of Virginia