Leonard Fonte
Department of Drama
Instructor, Theater History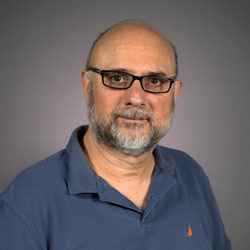 Syracuse Stage/Department of Drama Theater Complex
820 East Genesee Street
Syracuse, NY 13210-1508
Len Fonte, who taught high school English and theater for 33 years in the Syracuse City School District, received a B.A. from St. John Fisher College. He holds an M.A. in cinema studies from New York University, and he did graduate work in theater at Northwestern University, which he attended on a theater fellowship.
He has done post-graduate work at the University of Rochester and Texas A&M University. In 1984, he received a sabbatical to work with the Young Playwright's Festival, an activity of the Dramatists Guild Foundation. In 1994, he was cited as a Teacher of Excellence by the New York State Council of English Teachers. In 1995, he was awarded an ESU Summer Scholarship to study at Oxford University.
Fonte, who directed the world premieres of Jeff Kramer's Lowdown Liesand Reaching For Marsby, has presented workshops on teaching Shakespeare and directing and producing scholastic theater. At the first Syracuse Area Live Theatre Youth awards (SALTYs), he was voted Best Director, Distinguished Educator, and was presented the Lifetime Achievement Award. As a playwright, his works include Melagrana; 2009 SALT Award-winner Werewolf, produced by Rarely Done Productions; Wasted Bread, produced by Armory Square Playhouse; Hip/Shake (co-author with Reenah Golden) for Syracuse Stage Backstory program; the book for the musical Road Trip, and several comedy murder mysteries. Alchemist of Light, which he wrote with Tom Bisky, was seen at the 2009 New York International Fringe Festival. In 2010, he was accepted into the Kennedy Center Playwrights Intensive. Currently he writes theater reviews for the Post-Standard/syracuse.com. He is a founding member of Armory Square Playhouse.
Education
M.A., New York University
B.A., St. John Fisher College
Expertise
Theater history, playwriting