Kathleen E. Feyh
Department of Communication and Rhetorical Studies
Assistant Teaching Professor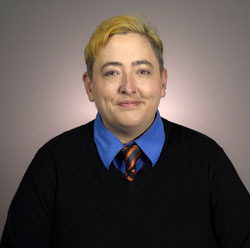 112 Sims Hall
Syracuse, NY 13244-1230
Kathleen E. Feyh's research interests include globalization and popular culture; rhetorical theory; rhetorical criticism; social movements; Marxism; embodied and multimodal communication; and the critical study of race, gender, and sexuality.
Education
Ph.D., University of Texas
Selected Publications
Cloud, D. and K. Feyh (2015). "Reason in Revolt: Emotional Fidelity and Working-Class Standpoint in The Internationale." Rhetoric Society Quarterly.

Feyh, K. (2015). "Queer Conversation—LGBTQ Oppression and Activism in Russia: An Interview with Igor Iasine." QED: A Journal in GLBTQ Worldmaking 2(1).

Feyh, K. (2010). "On Carts and Horses: Post-Marxism in Pre-Post-Capitalism." In Squires, C., E. Watts, M.D. Vavrus, K. Ono, K. Feyh, B.M. Calafell, and D. Brouwer, "Running through the Trenches: Or, an Introuction to the Undead Culture Wars and Dead Serious Identity Politics." Journal of Communication Inquiry 34(3).

Feyh, K. (2010). "Looking for the Left in Russia." Activism and Rhetoric: Theories and Contexts for Political Engagement. New York: Routledge.

Cloud, D., B. McCann, and K. Feyh (2009). "The Kairos of the Vanguard." Concerning Argument, ed. S. Jacobs. Washington, DC: National Communication Association.

Asenas, J., D. Cloud, K. Feyh, and B. McCann (2009). "Communication and Kairos in the Save Kenneth Foster Campaign." Communication Activism, Vol. 2. Cresskill, NJ: Hampton Press.
Awards and Honors
2008 Top Student Paper Award, American Society for the History of Rhetoric, National Communication Association
2008 Top Student Paper Award, Rhetoric and Public Address Interest Group, Western States Communication Association
2006 Foreign Language and Area Studies Fellowship, Center for Russian, East European, and Eurasian Studies, University of Texas at Austin