Jonathan English
Setnor School of Music
Part-Time Assistant Professor, Applied Music and Performance (Voice)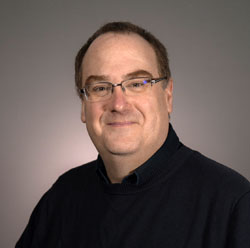 301 Crouse College
Syracuse, NY 13244-1010
Born in Syracuse, Jonathan English entered the Eastman School of Music to study voice. His primary teacher was John Maloy, and additional teachers were Jan DeGaetani, Helen Boatwright, Seth McCoy, and Thomas Paul. While at Eastman he sang early music with lutanist Paul Odette and gained a reputation as a champion for new music. Upon completion of his undergraduate course, English continued on at Eastman, earning master's degrees in vocal performance under Maloy and choral conducting under Donald Neuen and Alfred Mann.
As a tenor, English has performed a wide range of musical styles, from opera, symphonic, and oratorio to art song, choral, Broadway, and modern vocal chamber music. He has been a soloist with Boston's Cantata Singers under David Hoose; the Syracuse Opera Theatre under Christopher Keene and Steven White; Oswego Opera Theatre under Juan Francisco La Manna; Rochester Philharmonic under Isaiah Jackson; and the Pennsylvania Sinfonia under Alfred Mann. English gave the American premiere of Johann Rosenmüller's cantata In te domino with Odette and the Boston premiere with organist James David Christie.
English is especially proud of his association with new music. He has premiered works by such composers as Samuel Adler, Steven Albert, Warren Benson, Sydney Hodkinson, Daniel Pinkham, and Stanley Walden. In December 2001 English took on the role of Nicholas in the world premiere of a new opera by Denise Bacon and Addison Hall: A Legend of St. Nicholas.
English is the founder of the American Song Project, created to promote awareness through performances and recordings of the depth and beauty of contemporary and historical American art song. Newport Classic released his first solo CD Over There! Songs From America's Wars featuring music from the Revolutionary War to World War I. English has taught voice at the Commonwealth School in Boston, Roger Williams University, and Holy Cross College and given vocal and choral master classes throughout New England. As a choral conductor he has been music director at a number of churches in Massachusetts, New York, and Rhode Island; conducted the Oneida All-County chorus; and was vocal coach and director of the Boys Chorus for the Boston City Singers.
Additionally, English has been a critically praised stage director. For The Stanley B. Theatre in Boston his productions include David Mamet's Glengarry Glen Ross; Aaron Sorkin's A Few Good Men; James McClure's Laundry and Bourbon and Lonestar; and Neil Simon's The Odd Couple. For Oswego Opera Theatre he has stage Franz Lehár's The Merry Widow (in his own translation), Verdi's La Traviata, and Roger and Hammerstein's Carousel.
Education
M.M., B.M., Eastman School of Music
Expertise
Voice, vocal technique, and American art song