Jessica Posner
School of Art
Instructor, Studio Arts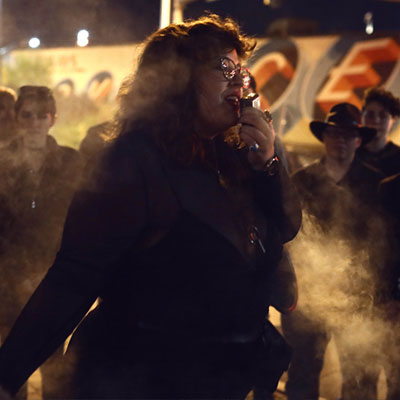 102 Shaffer Art Building
Syracuse, NY 13244-1210
Jess Posner (AKA Jessica Posner) is a queer feminist multidisciplinary artist, writer, educator, and energy worker. Through her work Posner models resilience and radical vulnerability as a means for healing the self, body, and spirit.
Posner's experimental performances, films, videos, sculptures, texts, and social events intertwine and illuminate connections between theory, practice, formal technique, and the social. Her work gently weaponizes the slippery, transformative poetics of femininity, queerness, and joy towards an embodied personal, political, material, and spiritual liberation.
Currently based in Syracuse, NY, Posner teaches university courses in art and writing; organizes a bi-monthly inclusive women's event at a queer bar; and curates the biannual FEELINGS: A Feminist Art Film and Video Festival. She is the founder of QUEERANTINE.NET, a weekly internet dance party that ran during March, April, and May during the first several months of the COVID-19 global pandemic.
Her work is performed and presented in museums, galleries, artist-run spaces, universities, fields, bars, and online. She is a Reiki II practitioner and a certified 200-hour yoga teacher. See Posner's Instagram. Full CV.
Education
M.F.A. Fine Arts, Parsons The New School for Design
B.S. Television, Radio, and Film, Newhouse School of Public Communications, Syracuse University
Expertise
Contemporary art, performance art, queer theory, queer art, feminism, video art, public programming, and movement
Courses Taught
Art, Activism, Modernity
Sculptural & Time-Based Forms
Art of Mindfulness
Art of Activism
Contextual Studies
Atelier: Cassils
Art and Activism
Contextualizing Practice
Studio Concepts
Interconnected Studios
Advanced Transmedia Studios