Gerardine Clark
Department of Drama
Professor, Acting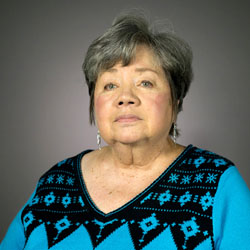 yracuse Stage/Department of Drama Theater Complex
820 East Genesee Street
Syracuse, NY 13210-1508
Gerardine M. Clark has been a professional actor, director, and playwright for more than 30 years. She was the Syracuse Scholar Teacher of the Year for 2004-05 and has been a Lilly Fellow, Mellon Fellow, and Gateway Fellow, and is a Laura J. and L. Douglas Meredith Professor. She is also currently a member of the Honors Core Faculty.
Clark teaches acting, directing, playwriting, dramatic theory, history, and literature. Her research interests include the relationship between recent discoveries in cognitive science, communication theory, and contemporary acting practices. She has written two books, Unnatural Acts and Practical Poetics, and she is presently working on two plays, The Last Meeting of the First Fifty Club and a musical adaptation of Tartuffe.
Her last play, a musical adaptation of Kenneth Grahame's The Wind in the Willows, was produced by the New Victory Theatre in New York in 1998 under her direction. It has been produced professionally many times since. Her adaptation of A Christmas Carol has been produced three times at Syracuse Stage, Syracuse's professional regional theater. She is presently producing an independent film. If You Could Say It In Words, a movie about an artist with undiagnosed Asberger's Syndrome, won the best feature at the Louisville Film Festival.
She is a member of the Actors' Equity Association.
Education
Ph.D., Indiana University
Expertise
Acting, directing, dramatic literature, play analysis, and playwriting