Evan Silloway
Setnor School of Music
Instructor, Applied Music and Performance (Trombone)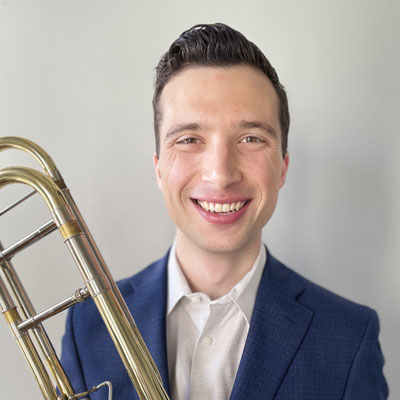 301 Crouse College
Syracuse, NY 13244-1010
Evan Silloway is currently the instructor of trombone at Syracuse University's Setnor School of Music and a DMA candidate at the Eastman School of Music studying with Larry Zalkind, former principal trombone of the Utah Symphony.
Prominent as a soloist and chamber musician, Silloway won the 2021 American Trombone Workshop (ATW) Division III Solo Bass Trombone Competition and was a member of the Outer Loop Quartet, winners of the 2021 ATW National Quartet Competition. He also appeared as a finalist in both the 2019 Donald Yaxley Bass Trombone Competition hosted by the International Trombone Association as well as the 2019 Southeast Trombone Symposium solo competition.
Silloway has performed with such diverse groups as the Utah Symphony, Syracuse Symphoria, Salt Lake Choral Artists, Greeley Philharmonic Orchestra, Rocky Mountain Wind Symphony, Colorado Jazz Orchestra, and Pikes Peak Brass Band. He was selected to fill a bass trombone vacancy with the Des Moines Metro Opera (DMMO) for the 2020 season and performed in the summer of 2021 with the DMMO on second trombone.
Previous teachers include Donn Schaefer (University of Utah), Mark Davidson (Utah Symphony), Graeme Mutchler (Utah Symphony), Nat Wickham (University of Northern Colorado), and Scott Crump (United States Air Force Academy Band). He holds degrees in Music Education and Trombone Performance from the University of Northern Colorado (UNC) and the University of Utah.
Silloway's writing has appeared in the Journal of the International Trombone Association and he has done research on early performances of solo trombone and trombone choir at the Eastman School of Music for An Illustrated Dictionary for the Modern Trombone Player, by Doug Yeo, former bass trombonist of the Boston Symphony (Rowman & Littlefield, 2022). He can be heard on UNC Lab Band I's album entitled Tale of the Open Road which earned the group a Downbeat Award for Best Graduate College Big Band in 2014. He has secured grants to invite such performers as Duo Steiner-Hochwartner—an international trombone-piano duo—and John Sipher, principal trombonist of the Colorado Symphony to present recitals and masterclasses. A strong believer in music education, Silloway spent two years as a middle school band director in Colorado where he also taught chamber music and private lessons.
In his free time, Silloway enjoys spending time in the mountains of his native Colorado, as well as sailing, running, and baking bread. He currently resides in Rochester, NY with his fiancee, Abigail, and two cats, Micah and Mabel.