Elizabeth Ojeda
Setnor School of Music
Instructor, Applied Music and Performance (Harp)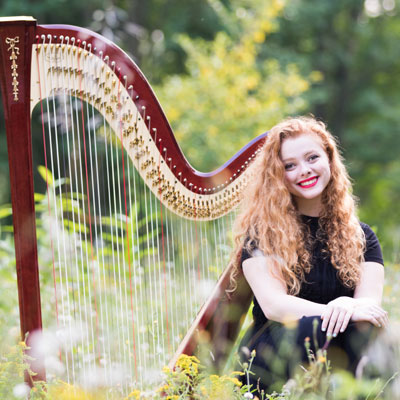 301 Crouse College
Syracuse, NY 13244-1010
Elizabeth Ojeda has committed extensively to her education, having earned a Master of Music degree in Harp Performance and Literature, as well as a Bachelor of Music degree in Harp Performance, a Bachelor of Music in Music Education, and a Performer's Certificate for "outstanding performance ability" from the Eastman School of Music. She is currently pursuing her Doctorate in Education at Columbia University, Teachers College.
Elizabeth is a widespread performer, having made her Carnegie Hall debut at the age of 11, and since then has toured the East Coast performing privately and publicly, refining her craft. She has competed extensively; her most lauded orchestral competition landed her and her fellow performers the title of National Grand Champions at the American String Teacher's Association Festival in 2014.
In November of 2016, she was awarded first prize in the Eastman School of Music's Harp Concerto Competition, and appeared alongside Reneé Fleming in a world premiere work based on the paintings of Georgia O'Keefe, "Letters From Georgia" at Alice Tully Hall, in Lincoln Center.
In May 2017, Elizabeth was awarded the Robert Wayne Barlow Harp Prize for Excellence in Harp Performance at the Eastman School of Music, and soon after, returned to Carnegie Hall to perform J.A.C. Redford's "Night Pieces".
Most recently, she is the Adult Category Winner in the IBLA International Performing Competition. She will play on a solo program in Carnegie Hall in May 2022.
Elizabeth is devoted to her teaching, and is on the faculty of Syracuse University, Roberts Wesleyan College, and the Eastman Community Music School, where she teaches Applied Harp, as well as "Theory in Motion": "...a five-level program focusing on aural and kinesthetic musical understanding, music literacy, and musicianship". She is additionally on the faculty of Longridge Elementary School, in the Greece Central School District, where she teaches K-2 and special education general music.